'Individual Differences in Second/Foreign Language Learning: Nature plus Nurture?' was the topic of a research seminar delivered by Dr Luke Plonsky, associate professor of applied linguistics at Northern Arizona University,
In this seminar, Dr Plonsky (pictured below third from left) reviewed research studies concerning several individual difference variables in the field of L2 research. He also described a recent study in which his co-authors and he himself propose and examine a new individual difference variable in the realm of applied linguistics: 'grit' or passion and perseverance for long-term goals such as learning a second language.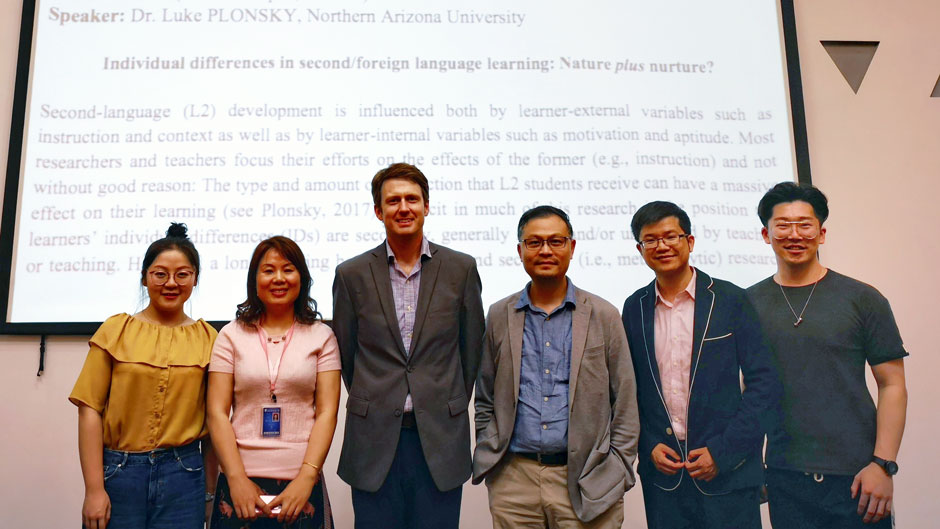 Dr Plonsky's research seminar attracted undergraduate, MA, and PhD students and academic staff members from the Department of English and across campus.
Jiawei Shi, a Year 3 undergraduate student from the English and Finance programme, said, "This seminar has enabled me to learn about the new individual difference variable—'grit', which also influences the L2 proficiency to a certain extent. Moreover, some future research directions that Dr Plonsky suggested really broaden and develop my own interests."
Li Ji, a PhD student whose main research is the improvement of Chinese university student English oral proficiency from the English Department highly valued Dr Plonsky's research seminar and commented, "'Grit' is a crucial factor that impacts language learning.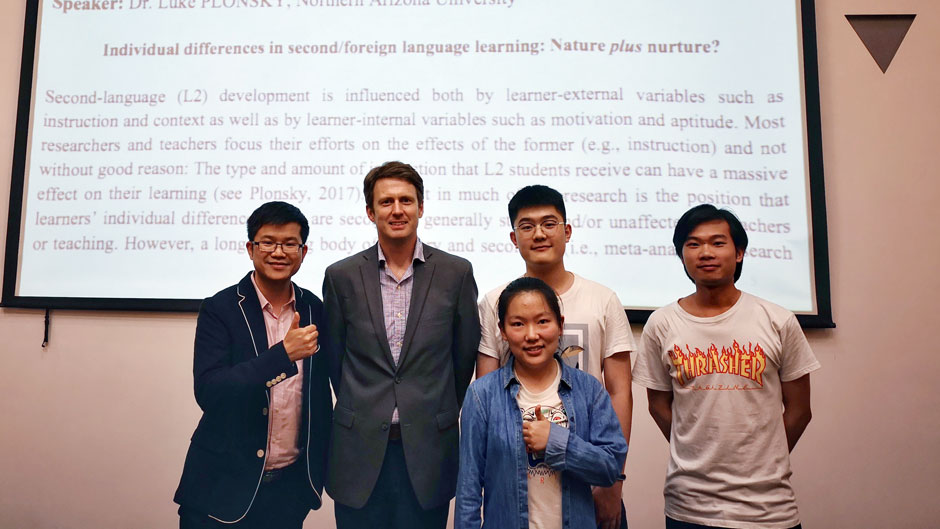 Dr Plonsky's research provides insights in the field of language acquisition, which inspires me about my own research. I believe the understanding of 'grit' by language teachers can be of great benefit in fostering language learners."
Dr Plonsky has expertise in two main areas within applied linguistics: 1) methodologically oriented research, and 2) second language acquisition. His papers have appeared in journals including Applied Linguistics, Language Learning, and Modern Language Journal. He has also authored and edited eight books including Second Language Acquisition: An introductory course (Gass, Behney, & Plonsky, 5th edition, under contract) and Advancing Quantitative Methods in Second Language Research (Plonsky, 2015).
Dr Plonsky is Associate Editor of Studies in Second Language Acquisition, Managing Editor of Foreign Language Annals, and he serves on the editorial boards of Language Teaching and Learning and Individual Differences. He is also Co-Director of the IRIS repository for instruments in language learning and teaching (iris-database.org).
Original Article From: https://www.xjtlu.edu.cn/en/news/latest
Learn More and Apply: Xi an Jiaotong-Liverpool University