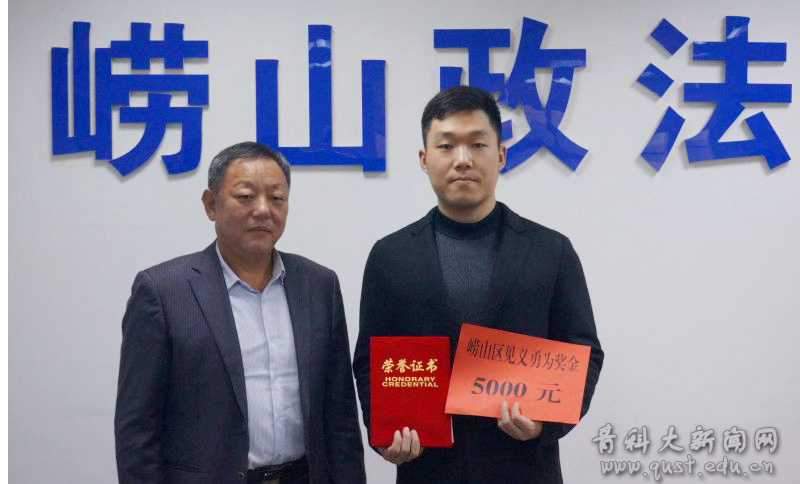 On November 30th, the Ceremony for Awarding Wang Yuexi the Honorary Title of "Advanced Individual of Doing Boldly What is Righteous" was held in the District Government of Laoshan. Qin Guoxin, deputy secretary of the Political and Legal Committee of Laoshan District and director of the District Comprehensive Management Office, Jiang Fuping, deputy director of the Comprehensive Management Office of Laoshan District,Wang Wei, deputy secretary and vicedirector of the Electromechanical Engineering College of Qingdao University of Science and Technology (QUST), Wang Yuexi, a student of the College, and people of relateddepartments of Laoshan Districtattended the ceremony.
Qin Guoxin spoke highly of Wang Yuexi's gallant act of saving the worker in danger. He pointed out that in order to arouse the enthusiasm of the broad masses of people and cadres to participate in the comprehensive management of social security, the District Comprehensive Management Committee and the District Association of Doing Boldly What is Righteous decided to award Wang Yuexithehonorary title"Laoshan Advanced Individual of Doing Boldly What is Righteous" and RMB 5,000 reward. Qin Guoxin issued the honorary certificate and bonus to Wang Yuexi.
The attendees talked about what they felt and thought about Wang Yuexi's deeds. The Beijing News, Qingdao Evening News, Qingdao TV and other media conducted follow-up reports.
Original Article From: https://en.qust.edu.cn/News.htm
Learn More and Apply: Qingdao University of Science and Technology