As a first-tier university in China, WHU has long attracted people's attention when it comes to its graduates' career prospects, which is also a major concern of students and faculty. In response, the WHU Graduate Report 2018 was released before the 2019 graduation season to offer a broad picture of its graduates.
During 2018, WHU graduates numbered 13,195 in total, consisting of 7,015 bachelor degree holders, 5,121 master degree holders and 1,059 PhD recipients, with 6,762 males (51.25 percent) and 6,433 females (47.75 percent). As of December 10, 2018, the gross graduate employment rate of WHU was 95.48 percent, with 93.81percent of bachelors, 97.64 percent of masters and 96.03 percent of PhDs counting as employed by December 10, 2018.
Career Service
WHU has made great efforts in providing its graduates with comprehensive career services, especially with all kinds of job fairs. During the past year, 1,561 job fairs involving 6,069 companies, were held.
Breakdown by fair type
In terms of company types, businesses make up the largest proportion with 4,389 companies, which include 763 state-owned companies.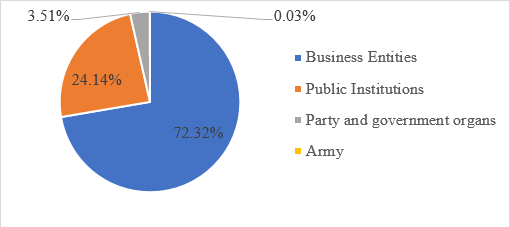 Breakdown of recruitment companies by type
Financial analysis shows that, in comparison to 2017, the number of Fortune Global 500 companies that came to WHU for recruitment purposes in 2018 increased significantly.
Recruitment at WHU by Fortune Global 500 companies
Employment Outcome
Graduates from 33 departments at WHU were included in the 2018 statistics. 18 of these attained a graduate employment rate of above 95 percent, with graduates from the School of Power and Mechanical Engineering, the School of Civil Engineering, the School of Chinese Language and Literature and the School of Pharmaceutical Sciences reaching a 100 percent employment rate.
Among all the 2018 graduates, the gross employment rate of males is 95.24 percent while that of females is 95.73 percent. In terms of education level, master's graduates obtained the highest employment rate, irrespective of gender, with males comprising 98.11 percent and females 97.28 percent respectively.
2018 Graduate Employment Report of WHU
Graduate Feedback
For this article, we interviewed several graduates with satisfactory job offers, collected their comments on WHU's career service and invited them to share their job-hunting experiences with us.
Never pursue further education blindly just because you haven't found a satisfactory job. Wang Xiaohui, a 2018 postgraduate in material science, is now working in an IT company. When looking back on her job-hunting period, she considers WHU's career service helpful. However, she also advises current students to do more than merely attending job fairs. "Communicating with alumni is a crucial means of getting to know more about potential companies and working circumstances in an industry. It's better to consider major-related jobs, which will be much easier. Finding a good job is not an easy task. However, the last thing you should do is to continue studying merely because you haven't found a satisfactory job," said Wang.
Find out what you are truly enthusiastic about as it will help you achieve self-fulfillment in your career. Wang Manning, a 2017 graduate in financial engineering who started her career as an auditor in a famous accounting firm, chose to switch to an educational institution one year later. She said, "I found myself enjoying spending time with young students and feeling self-realized when they make progress. I am always interested in exploring better ways of teaching and I am willing to devote my time and effort to it. Even though working in a well-known financial company may be a good choice for some, I believe it is better to choose a profession that you are really passionate about. In the process, you will uncover your short-comings and desire to get further education to obtain more professional skills."
It's essential to be familiar with the market condition and find the value of your own profession before entering the job market. Wang Mengye, a 2018 postgraduate in material science, is now working in an IT company which does not fully match her professional interests. "Generally speaking, the career service in WHU is of help. However, it would be advisable to provide more statistical analysis about market conditions in advance of the recruitment season, which will assist graduates in understanding the strong points of their own profession. Sometimes we are too easily influenced by industry trends and may decide to switch our career in a haste," she said, "But finding a job that does not match your professional profile means you risk losing your competitiveness factor while competing with other professionals. Switching profession requires great efforts at a time when the market conditions might be undergoing dramatic changes."
The evidently high overall graduate employment rate of WHU suggests that the university's graduates are highly competitive, with the majority undoubtedly able to find a decent job after graduation. However, individual career choice requires deep consideration and careful planning.
Original Article From: https://en.whu.edu.cn/list.jsp?urltype=tree.TreeTempUrl&wbtreeid=1050
Learn More and Apply: Wuhan University