On the evening of December 26, the 2016 New Year's Party for International Students was grandly held at the Lecture Hall of CSU. Vice President Zhang Zhuohua, teachers and students from office of International Cooperation and Exchanges as well as schools and colleges of CSU gathered together to greet the New Year with more than 600 students from over 90 countries and regions, including Hong Kong, Macao and Taiwan.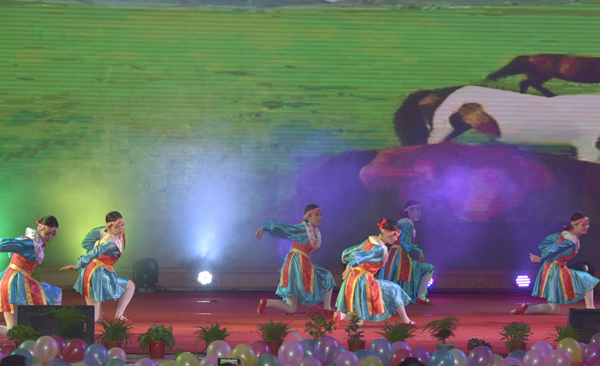 The performance of the Dragon Dance Team composed of foreign students witnessed the beginning of the party. The two dragons danced with the sonorous music, bringing into full play the traditional dragon dance movements including swinging, jumping through, jumping over, turning and twisting and such difficult movements as dancing grasping each other's waists or standing on each other's shoulders. Such three Chinese characters as "Zhong", "Guo" and "Long" were so beautifully modeled, winning fits of applause from the audience.
An old English song called Lemon Tree performed by Ji Xiaolong, the champion of the "Voice of China" from America sparked a resonance from the audience. And such a Chinese song as Can't Help Falling In Love With You sung by Du Hongjun, the second runner up from Vietnam and her partner threw light on their high level of Chinese. A Chinese song called Under A Vast Sky by Hong Wenhao from Hong Kong and an Amis song as Thinking of You by four students from Macao and Taiwan spoke eloquently to the youthful vigor of CSU's students from Hong Kong, Macao and Taiwan.
The party saw CSU wrapped in the exotic dances including enthusiastic Mongolian dance, elegant Lao dance, enchanting Indian dance, ardent Caribbean dance, graceful Thai dance and free-spirited African dance.
The Taiji fan co-performed by foreign students and Chinese teachers showed the beauty of firmness and gentleness. The perfect combination of such a traditional Chinese poem as The Rain Lane and the dance of Blue and White Porcelain presented the audience a gentle and graceful scenery of Jiangnan.
It was amazing to see that a foreign student from Congo called Fei Li, who had learned Chinese just for over three months, articulated decently and clearly when playing tongue twisters; the allegro of Scholarly Campus Wears a New Face displayed a new style of foreign students at CSU.

A total of more than 20 shows have made the New Year's Party colorful and rich in contents, lively and varied in forms. 130 students from over 30 countries and regions, including the United States, Great Britain, Hungary, Mongolia, Thailand, Hong Kong, Macao and Taiwan participated in the performance and co-presented a splendid New Year's Party.
Original Article From: http://en.csu.edu.cn/index/News.htm
Learn More and Apply: Central South University