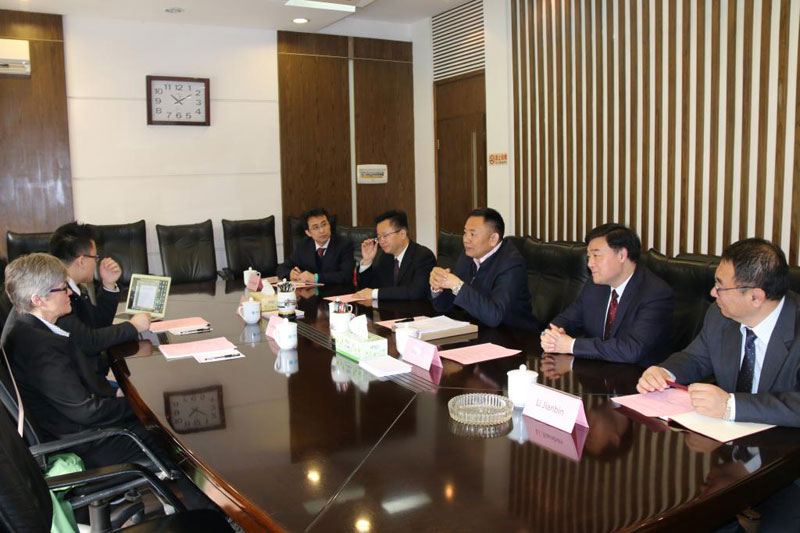 On March 18- to 20, Prof. Evelyn Morin from Queen's University of Canada visited CSU and got to know the research and application in transparent computing theory at CSU for future cooperation between CSU and Queen's.
In morning of March 18, President Zhang Yaoxue met Mrs.Morin at the university meeting room where he gave her a brief introduction to CSU, as well as construction and application of medical big data at Xiangya Hospital. As to transparent computing theory, President Zhang Yaoxue said, "Transparent computing theory is grasping attentions from experts and researchers from many fields. The research teams at CSU have also developed film printers and wearable devices such as transparent smart watches. The Big Data Project of Xiangya Medical launched in 2013, with the theory functioned as backbone, and a series of products has been thereby developed. President Zhang assured the big data projects and transparent computing products plays an active role in medical service, healcare during our daily life.
Prof. Evelyn Morin has been focusing on the intercross research of biotechnology and information technology. She takes great interest in transparent computing research and big data project of Xiangya Hospital at CSU in the hope of looking for a partner in bioinformatics. During the visit, she had a profound discussion with Zou Beiji, dean from School of Information Science &Engineering, Li Jianbin, the director of Institute of Information Security and Big Data, and Bai Yi, director of office of International Cooperation and Exchanges. He also visited Collaborative Innovation Center of Medical Big Data and International Medical Services Department of Xiangya Hospital. Prof. Evelyn Morin said the visit was very successful and expressed her wish to co-build a Joint Laboratory to carry out collaborative research with CSU in extraction of biological signal, transparent computing and application of clinical big data.
During the visit, Prof. Evelyn Morin gave an academic report "Information Extraction from Biological Signal Recordings"at School of Information Science & Engineering.
Original Article From: http://en.csu.edu.cn/index/News.htm
Learn More and Apply: Central South University