On the afternoon of April 17, Prof. Richard R. Schrock, 2005 Nobel Prize winner in chemistry, Full Professor at Massachusetts Institute of Technology (MIT), and an academician of Liberal Arts College, took a visit to SMU and made an academic report of "Adventures in Inorganic Chemistry and Catalysis" , which was also the second academic lecture introducing foreign experts in 2018 with the theme Dialogue with Masters---Winners of International Academic Award Visiting SMU. Present at the lecture were President Zeng Ming, Vice-president Ding Keyi as well as relevant leaders from Office of International Cooperation and Exchange and School of Chemistry and Environment Protection Engineering.
President Zeng, on behalf of the whole university, extended warm welcome to Prof. Schrock and humorously pointed out that literature works can have different endings while scientific research only has one result. He also expressed his hope that everyone can respect science and advocate truth.
During the lecture, Prof. Schrock introduced the research process of tantalum complexes, whose results became the research start of high valence tantalum complexes. And he applied it into the preparation of poly transition metals complexes like molybdenum, contributing to the breakthrough of studying mechanism of olefin metathesis reaction. Prof. Schrock gave a grand academic feast with his abundant expertise and unique academic vies, which was highly spoken of.
Background Link:
Prof. Richard R. Schrock is an American chemist as well as a member of the American Academy of Arts and Sciences and National Academy of Sciences. He mainly works in the area of high oxidation state metals complexes, related catalytic reaction and mechanism. He was the editor of Organometallics, a world-renowned academic journal and now he is the full professor at MIT. He has published 575 academic papers. In 2005, Schrock received the Nobel Prize in Chemistry, with Robert H. Grubbs and Yves Chauvin.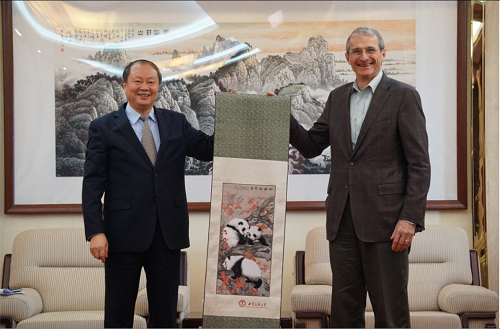 Original Article From: http://english.swun.edu.cn/News.htm
Learn More and Apply: Southwest University for Nationalities