SWUN News Network - On the morning of April 13, 2016, a five-member delegation led by Mr. Mariano Colleta, president of Saint Martins College of Fine Art, Italy visited SWUN. Ding Keyi, Vice President of SWUN, met with the delegation on behalf of the university leadership. The two sides held a talk at the conference room of the Administration Building on the Wuhou Campus. Staff of the Office of International Cooperation and Exchange, and directors of related schools, including the School of Art and the School of Architecture and Urban Planning, also attended the meeting.
At the meeting, Vice President Ding Keyi extended a warm welcome to the guests. After making a detailed introduction to the blueprints for development, international exchange programs and the features of the art institutes, the two sides had a full discussion on possible cooperation, including 3 plus 1 and 2 plus 2 joint training programs for undergraduate students, 3 plus 2 joint training programs for graduate students, short term exchange programs for faculties and curriculum construction for International education with a recruitment of foreign experts. The exchange of the two sides laid a solid foundation for further cooperation. After the meeting, Mr. Mariano Colleta and other members of the delegation visited the Ethnic Museum of SWUN.
Saint Martins College of Fine Art offers degree programs including a three-year program for bachelor's degree and a two-year program for master's degree, including majors in Industrial Designing, Environmental Designing, Fashion Designing, Visual Designing, Photography, Art Designing, Restoration of Cultural Heritage and Graphic Designing, etc. Besides, Saint Martins College of Fine Art is one of the members of Erasmus Mundus and SOCRATES in student exchange programs(lifelong learning programs). It has also established inter-school collaboration with many European universities.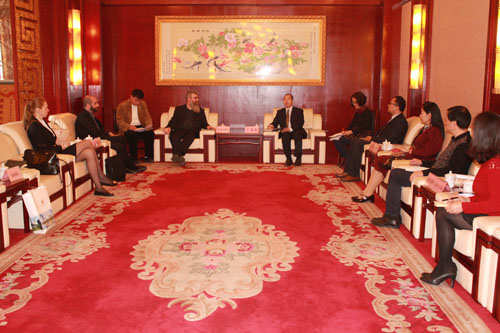 Original Article From: http://english.swun.edu.cn/News.htm
Learn More and Apply: Southwest University for Nationalities