On the morning of March 10, 2015, an agreement was signed in Beijing between the State Ethnic Affairs Commission (SEAC) and Sichuan Provincial People's Government (SPPG) to jointly build Southwest University for Nationalities (SWUN). Chen Gaihu, Deputy Director and member of the Party Leadership Group of SEAC and Huang Yanrong, Deputy Governor and member of the Party Leadership Group of SPPG attended the signing ceremony and signed the agreement to build SWUN through coordinated efforts. The ceremony was presided over by Tian Liangang, Secretary of Department of Education, Science and Technology, SEAC. Present at the ceremony were leaders of related departments and bureaus of SEAC, General Office of SPPG, Education Department of Sichuan Province as well as Bian Jing, Party committee secretary of SWUN and Zeng Ming, President of SWUN.
According to the agreement, SEAC will strengthen its leadership in SWUN. SEAC will provide more guidance to the reform, development and construction of SWUN and give it more support in policy and finance in order to promote SWUN to a higher level in the areas of development planning, teaching administration and reform, disciplinary development, scientific research cooperation, faculty staffing, and talent training. SPPG will encompass the reform and development of SWUN in its overall planning of the economic and social development in Sichuan Province, providing SWUN with more support and assistance in policy and projects to address major problems in the development of SWUN.
The agreement will play an active role in building SWUN into an important base for fostering ethnic minority talents, studying ethnic issues and theories, and carrying forward excellent ethnic cultures. Thus, SWUN will enhance its capacity to serve the economic and social development in Sichuan Province, southwest areas and minority-inhabited areas at large, making more contributions to building a well-off society in an all-round way in China.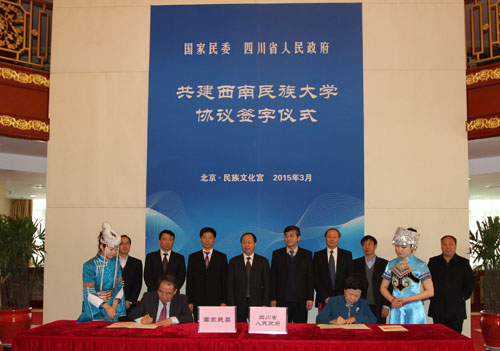 Original Article From: http://english.swun.edu.cn/News.htm
Learn More and Apply: Southwest University for Nationalities