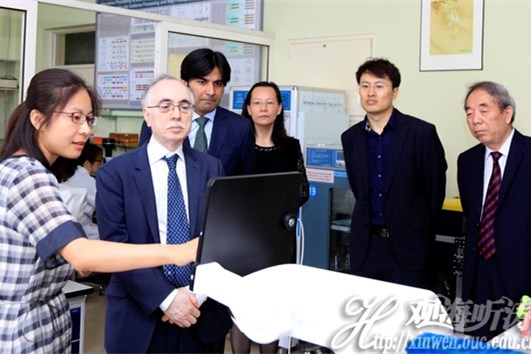 Ambassador Masood Khalid (second from the left) visits OUC's Laboratory of Protozoology
On 13th June, 2018, Mr. Masood Khalid, Ambassador of Pakistan to the People's Republic of China, and Mr. Muhammad Abdullah, Second Secretary, visited Ocean University of China (OUC). President Yu Zhigang and Vice-President Yan Ju of OUC met with the guests in the Academic Exchange Center on Yushan Campus, where the two sides held an in-deep discussion.
President Yu extended a warm welcome to the delegation and gave a brief introduction about OUC's development. He told the visitors that OUC is a key comprehensive university under the administration of the Chinese Ministry of Education. The university's oceanography and fisheries, its strongest disciplines, not only rank first in China, but also have a global influence. OUC is also strong in such areas as biology, food science and engineering, medicine and pharmacy, especially marine drugs, environmental science and engineering, and marine engineering, with a profound influence throughout China. After 40 years' development since the reform and opening up of China, OUC's economics, management, law, languages and literature departments have also made great progress and all of them have doctoral programs.
The meeting
President Yu Zhigang also introduced OUC's international exchanges and cooperation. He explained that OUC attaches great importance to internationalization, hoping that more foreign students will come and study at OUC and that OUC will send more students to study aboard, to promote cultural exchange and to broaden the students' horizons. The number of Pakistani students is the third largest among OUC's current international students. Since Pakistan and China are strategic partners, President Yu expressed his wish that this visit would be an opportunity, to further expand cooperation between OUC and Pakistan's relevant institutions and organizations in teaching and scientific research. Together, the two sides could jointly cultivate talent, making greater contributions to China and Pakistan's economies and cultural industries.
Ambassador Khalid spoke highly of the quality of OUC's education. He said that in the past 40 years, China has made significant achievements in many fields, especially in the areas of science and technology. Both China and Pakistan are developing countries, and Pakistan wants to learn from China. He himself is also very happy to build a bridge to help Chinese and Pakistani universities establish cooperative relations. Through this visit, he had learned that Pakistani students at OUC are very satisfied with their studies, for which he was appreciative. These international students form the two countries' bridge. They not only focus on their respective fields, but they also learn about Chinese language and culture. In the future, all of them can contribute to the development of China-Pakistan friendship in their own fields.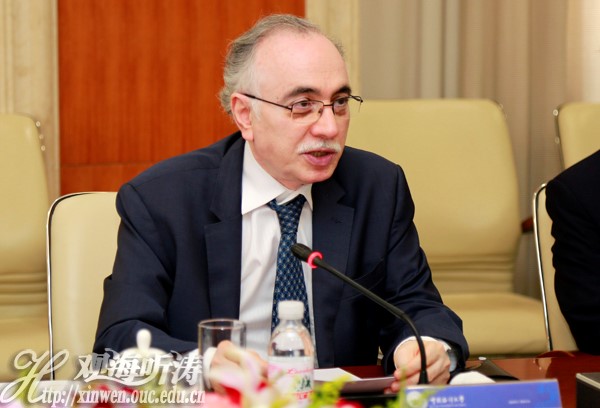 Ambassador Msaood Khalid delivered a speech
Ambassador Khaled expressed his views on advancing cooperation between the two sides. He said that Pakistan hoped to conduct more extensive and in-depth cooperation with OUC in marine areas. Both China and Pakistan have now recognized that they must protect and make good use of their marine resources, efforts that require marine science and technology. He explained that Pakistani fishermen once destroyed fishery resources because of their lack of professional knowledge. He hoped that OUC could use its good influence, strengthen cooperation with Pakistan's relevant institutions, and raise Pakistanis' awareness of the importance of protecting marine and fishery resources.
Professors from the College of Marine Life Sciences, the College of Food Science and Engineering and the School of International Education introduced students' education and scientific research cooperation. Prof. Song Wenhong, director of OUC's International Office, hosted the meeting.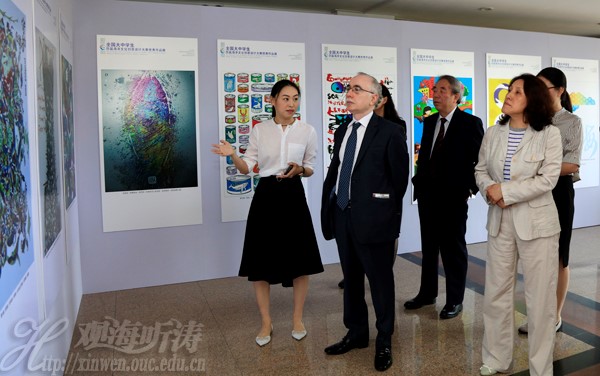 Ambassador Msaood Khalid visits the exhibition of students' creative works about marine culture
Before the meeting, Ambassador Khalid, accompanied by Vice President Yan Ju, visited an exhibition of students' creative works on the theme of marine culture and an exhibition of college students' innovation and entrepreneurship in science and technology. They also visited the Chinese cultural class on calligraphy for international students and had conversations with Pakistani students.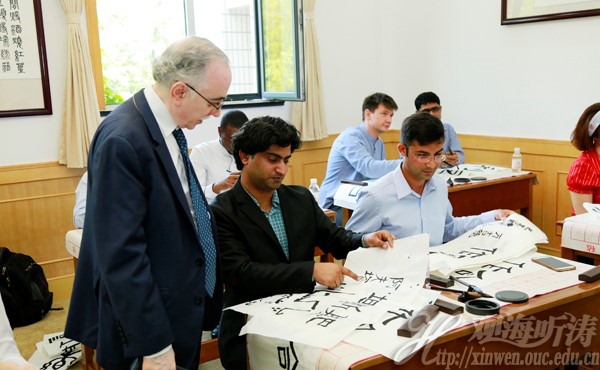 Ambassador Masood Khalid visits a Chinese calligraphy class for international students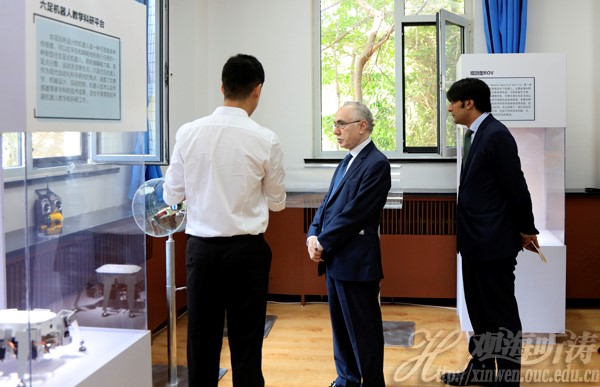 Ambassador Masood Khalid visits an exhibition of college students'
innovation and entrepreneurship in science and technology
Later, Ambassador Khaled watched a Chinese folk music performance by OUC's art department in the multifunctional hall of Yifu Building. He highly praised the teachers' and students' playing skills. Ambassador Khaled also visited the Laboratory of Protozoology and the Key Laboratory of Physical Oceanography, listened to an introduction of the laboratory and consulted on related issues.
The Chinese folk music performance
Staff from the Party Committee Office, the President's Office and the International Office attended the event.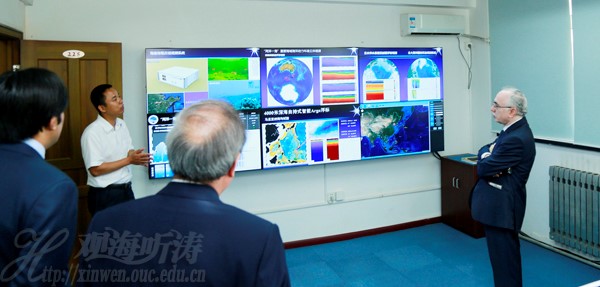 Ambassador Msaood Khalid visits Key Laboratory of Physical Oceanography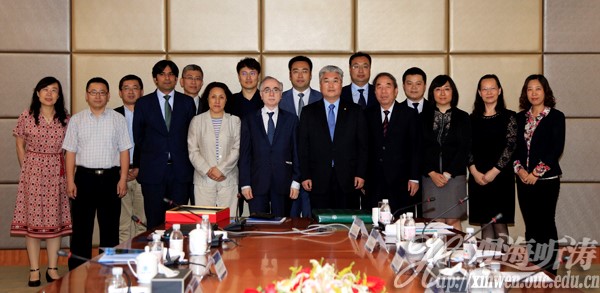 Group photo
Original Article From: http://eweb.ouc.edu.cn/news/list.htm
Learn More and Apply: Ocean University of China