SMU News, Apr. 28 On the morning of April 28, Amir Lati, Consul General of Israeli Consulate Generate in Chengdu, and Vice Consul Eyal visited SMU. President Zeng Ming, Vice President Ding Keyi and staffs responsible for this event of the Office of International Cooperation and Exchange met with these guests at the conference room of the National Museum on Wuhou campus.
President Zeng extended the welcome to these guests and introduced SMU's basic conditions, disciplines' status and advantages as well as our programs we launched in international exchanges and cooperation. He hopes more communication and cooperation should be enhanced to enable more students to understand Israel, offering more opportunities to study in Israel for our teachers and students.
Amir Lati gave a brief introduction of Israeli consulate and showed that we had much in common between China and Israel. He also hopes that both sides can make cooperation on mutual visits between teachers, students exchanging, academic research, and innovation and entrepreneurship, etc.
After the meeting, Amir Lati gave a lecture on Innovation and Startups in Israel and took a deeper talk with some postgraduates on the Wuhou campus. He pointed out that Israel, an innovative country, is rested with its focus on education, immigration country, unique geographical position, and the great support of the government. During the lecture, Amir Lati explained the Scholarship Project of Israeli universities. He hopes more opportunities can be given to our students to further study in Israel. Besides, he also encourages young students in both countries to proactively make interactions and share innovative conceptions and startup experience.
News Link: Consulate General of Israel in Chengdu, founded in 2014, is the fourth consular agency established in China following Shanghai, Guangzhou, Hong Kong. Its consular districts include Sichuan Provence, Chongqing Municipality, Guizhou Provence and Yunnan Provence. Amir Lati is the first Consul General of the Consulate General of Israel in Chengdu and continues to take office since he was assumed in 2014.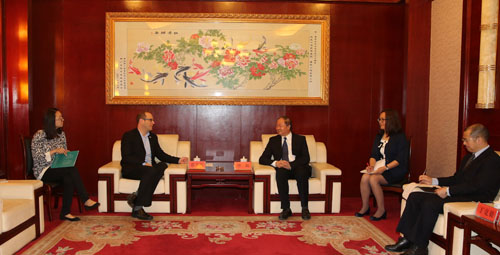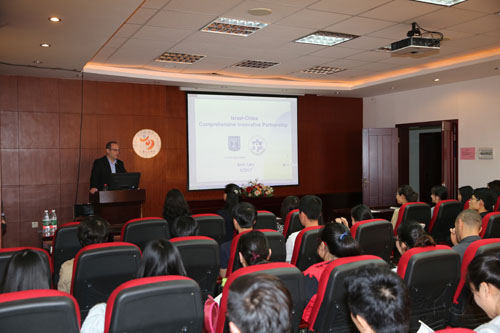 Original Article From: http://english.swun.edu.cn/News.htm
Learn More and Apply: Southwest University for Nationalities