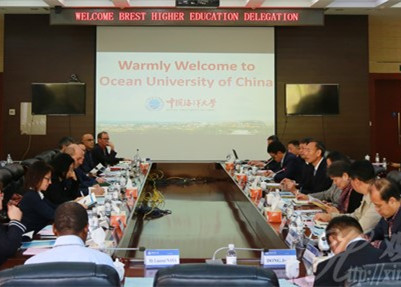 On October 30, a delegation from Brest Higher Education (France), led by Dr. Matthieu Gallou, President of Université de Bretagne Occidentale (UBO), visited Ocean University; also at the meeting were staff from Qingdao Municipal Foreign Affairs Office. Ju Chuanjin, Chair of the University Council, and Li Weiran, Vice President of OUC, met the guests on Laoshan campus and the two parties engaged in discussions to further deepen cooperation and exchanges between the universities.
Vice President Li moderated the meeting at which Chairman Ju extended a warm welcome to the delegation and spoke highly of the fruitful results achieved in the past twenty years of cooperation with UBO. He said that regular visits would bring the two parties even closer together and he hoped that this visit by President Gallou, as well as the return visit by the OUC delegation the next month, will expand areas of cooperation and faculty/student exchanges and further develop the collaboration between the two sides.
President Gallou expressed his thanks to OUC for the warm welcome. As he pointed out, UBO and OUC have many things in common in terms of size and disciplines. Based on the current collaborative programs, both sides are in a position to explore new ways of cooperation, especially stepping up joint efforts in the humanities and management sciences.
The directors of the International Office and the Graduate School shared the university's vision for an internationalized education for master's candidates. President Gallou, President Luc Pontet of ESC Bretagne Brest, and Dr. Benoît Clément of ENSTA Bretagne each introduced their institutions. As the meeting progressed, members of the delegation talked in breakout groups with professors from the College of Oceanic and Atmospheric Sciences, the College of Marine Geo-Science, the College of Food Science and Engineering, the College of Economics, the College of Management and the College of Foreign Languages.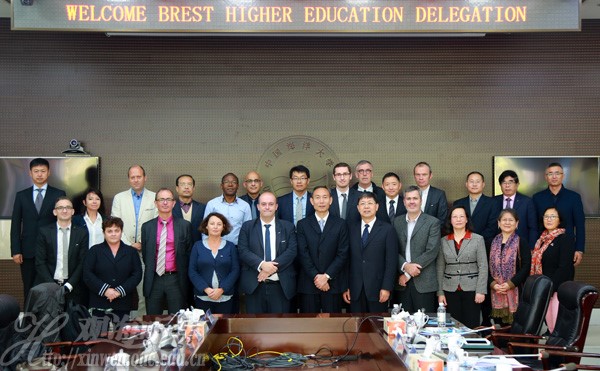 Original Article From: http://eweb.ouc.edu.cn/news/list.htm
Learn More and Apply: Ocean University of China