Between 19th and 27th May, Party Secretary and Chairman of the BJTU University Council, CAO Guoyong led a delegation to visit the US and Costa Rica, and visited Rochester Institute of Technology (RIT), the University of Central Florida (UCF), the National University of Costa Rica (UNA) and other universities in Costa Rica. CAO exchanged opinions regarding cooperation with leaders of the above four universities and signed cooperation agreements with RIT, UCF and UCR. The visit is fruitful and has achieved the expected goal.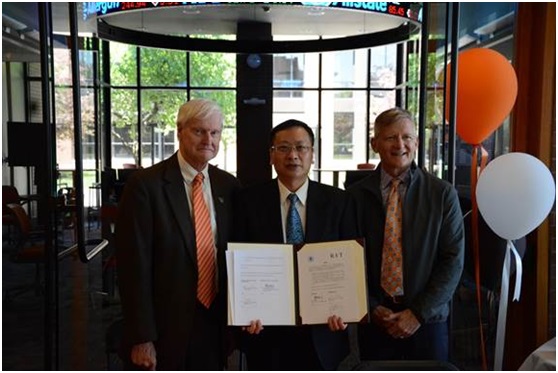 At RIT, CAO met with President William Destler. They both highly evaluated the achievement of joint-running programmes between the two universities and exchanged opinions on further cooperation. In the future, the two universities will increase investment to enhance the quality of joint-running programmes, emphasise the supervision and build an influencing brand, and based on the current cooperation, to strengthen comprehensive cooperation including students and teacher exchange and research cooperation. CAO, on behalf of BJTU, signed the renewed agreement on student exchange and double degree programme.
During the stay at RIT, CAO also met with students who participate the joint-running programme, enquired about the existing issues within this programme and collected suggestions surrounding the improvement of the programme. The delegation also visited the RIT campus and some newly-built facilities, including the sustainable energy mansion and the nanotechnology lab, and attended a graduation ceremony.
At UCF, CAO met with Provost and Executive Vice-President Dale Whittaker. CAO affirmed the solid relationship between the two universities and hoped in the future, the two universities will combine respective advantages and cooperate in key areas such as transport and transit, electrical engineering, computer science and new energy. Issues including teacher exchange, student joint-cultivation and English language teaching were also discussed; consensus regarding several cooperation were achieved; Memorandum of Understanding between the two universities was signed.
At UNA, CAO met with Vice-Rector Daniel Rueda Araya, discussing surrounding mutually interested cooperation fields and confirmed the cooperation framework and prioritised direction. The incoming Costa Rican Ambassador to China, Ms Patricia Rodriguez, also participated the meeting and said she would support the education cooperation between BJTU and UNA, UCR. CAO also invited Ms Patricia Rodriguez to visit BJTU after she arrives in Beijing.
At UCR, CAO met with President Henning Jenson Pennington. Topics such as exchange of students and teaching staff, especially those specialising in advantageous subjects, were discussed and consensuses were achieved. The two universities signed a cooperation agreement. The delegation also visited the electrical engineering and energy labs.
Original Article From: http://en.njtu.edu.cn/news_20161201183223846124/index.htm
Learn More and Apply: Beijing Jiaotong University