On April 17th, the fourth council meeting of the Confucius Institute of Queen Mary University of London (QMUL) was held through video conferencing. Yao Lingzhen, Vice President of SUFE, Li Hong, Director of the International Exchange and Cooperation Office, and Sun Bing, Dean of the Confucius Institute Office attended the meeting. Jiang Chuanhai, President of SUFE and Vice President of the Council, delegated Shen Hui, Director of the President's Office, to attend the meeting as a special representative.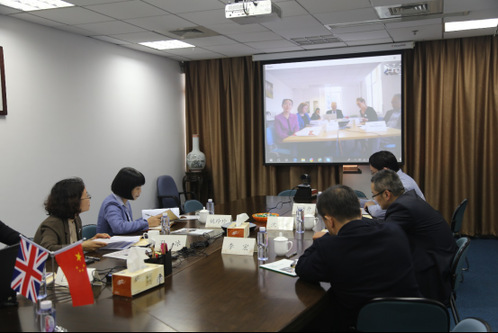 During the meeting, the Council reviewed and passed the Confucius Institute Working Report of 2018 and the Three-year Working Plan from 2019 to 2021. They also held discussion on promoting cooperation in scientific research and exchanges of faculty and students through the platform of the Confucius Institute. Yao really appreciated the support of the British Council members on developing the Confucius Institute. She hoped that both sides could enhance communication and cooperation and welcomed all the scholars and students of QMUL to SUFE. SUFE would also select more excellent students to study in London.
The Confucius Institute at Queen Mary University of London, which was established in October, 2015, has now stepped into its fourth year. The Confucius Institute has achieved prominent progress in degree courses and non-degree courses. In 2018, over 130 students learned Chinese in QMUL. In December, 2018, a Confucius Class proposed by the Confucius Institute and St Augustine's Catholic Primary school was approved, to be established in 2019. In 2018, the Confucius Institute at Queen Mary University of London held various cultural experience activities like the Chinese New Year Gala, a Music Festival of the Dragon Boat Festival, and more than 30 Chinese Film Nights, attracting an attendance of over 600 people each time. With the assistance of the Confucius Institute, both sides strengthened inter-school exchanges. SUFE assigned 11 students to attend 1+1+1 Graduate Programs last year. The scholars of both universities improved exchanges by research forums and academic visits.