On January 8th, Vice President GUAN Zhongliang met with the delegation from Rajamangala University of Technology Thanyaburi (RMUTT), Thailand, led by President Prasert Pinprathomrat.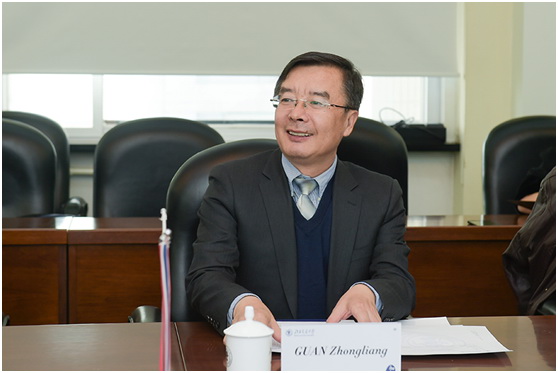 GUAN Zhongliang extended welcome to the delegation on behalf of BJTU and introduced the history, international development, strength discipline as well as achievements of exchange and cooperation between BJTU and Thai counterparts. He said the cooperation in railway between China and Thailand has gained momentum. The "Belt and Road" Initiative and construction of Sino-Thai Railway have provided good historical opportunities for the cooperation between BJTU and RMUTT. Meanwhile, BJTU boasts distinctive advantages and rich experience in talent cultivation of rail transportation. In recent years, BJTU has undertaken many training programs on railway technology, operation and management for the countries along the "Belt and Road" Initiative including Thailand. He hoped that both sides would take this visit as an opportunity to strengthen further cooperation in student exchange, faculty visits and joint research.
Prasert Pinprathomrat expressed gratitude to BJTU for the hospitality and reached intent of cooperation with BJTU on further strengthening student joint cultivation and short-term exchanges of teachers. He spoke highly of the contributions BJTU has made in recent years in talent cultivation and railway cooperation between China and Thailand. He hoped that both sides would work closely on selecting lecturers for professional instruction and carrying out student exchange and mutual visits in order to promote practical cooperation between the two universities.
After the meeting, the delegation also visited the National Engineering Research Center of Rail Transportation Operation and Control System.
Principals from the School of Traffic and Transportation, School of Mechanical, Electronic and Control Engineering, Office of International Affairs, Center for International Education and National Education and Service Center of Railway Transportation Technology were also presented at the meeting.
Original Article From: http://en.njtu.edu.cn/news_20161201183223846124/index.htm
Learn More and Apply: Beijing Jiaotong University