On the morning of April 8th, Professor Francois Degeorge, Managing Director and Senior Chair of the Swiss Finance Institute, visited SUFE with a delegation of 3. Vice president Yao Lingzhen met with the delegaiton.
Vice president Yao Lingzhen extended warm welcome to Francois Degeorge. She gave an introduction about the history, international development and talent cultivation of SUFE. She said that the internationalization gene of SUFE had been passed down for a hundred years and has been the driving force for SUFE's development and SUFE was willing to deepen understanding and enhance friendship with Swiss Finance Institute through mutual visits and carry out fruitful international cooperation.
Professor Francois Degeorge highly appraised the achievements of SUFE. He introduced the advantages and characteristics of the Swiss Finance Institute, as well as the foreign exchange and cooperation. He said that the development of China had a broad prospect. Swiss Finance Institute and SUFE had common key subjects. They were looking forward to carrying out substantive cooperation with SUFE in the future.
Subsequently, the two sides exchanged views and reached consensus on the issues of students cultivation, teachers exchange, scientific research and cooperation, and agreed to maintain close contact and promote cooperation as soon as possible, to build a solid international exchange platform through substantive cooperation projects and jointly promote the international development of education. After the meeting, Professor Degeorge Francois visited the SUFE History Museum and the Museum of Business.
Silvia Helbling, Head of Continuing Education, Member of the Management Board of Swiss Finance Institute, and Ms. Lei Xin, Consultant of Swiss Finance Institute, Chen Xuanjuan, Vice Dean of SUFE School of Finance, Yu Hong, Deputy Director of International Exchange and Cooperation Office, Dean Assistant of College of Business Ding Haoyuan and so on.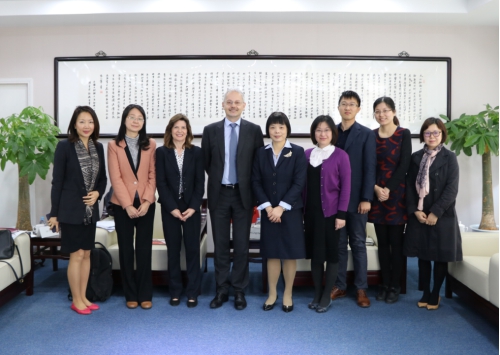 Founded in 2006,Swiss Finance Institute is an educational institution specializing in education, research, knowledge transformation and knowledge exchange in the banking and financial fields. The foundation is carried by Swiss banks, the Swiss stock market SIX Swiss Exchange as well as the Swiss Confederation, the Swiss National Science Foundation and numerous Swiss universities. The research of the Institute involves asset pricing and asset allocation, corporate finance, financial markets, banking, finance and society, behavioral finance and international finance.