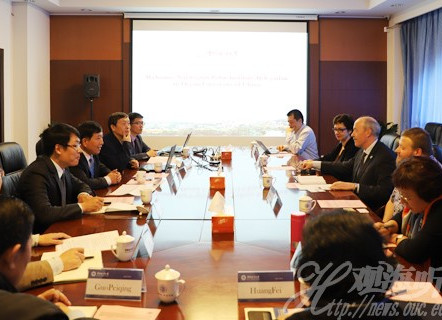 On April 17, Director Ole Arve Misund, Vice Director Nalan Koc and Dr. Mats Granskog of the Norwegian Polar Institute visited Ocean University of China (OUC) and had a meeting with representatives from the Key Laboratory of Polar Oceanographic Process and Global Ocean Changes (Key Polar Laboratory) as part of the joint International Cooperation Seminar on North Pole Research. Prof. Wang Jianmin, Vice President for Finance of OUC, attended the seminar.
Prof. Wang extended a warm welcome to the Norwegian delegation. He introduced OUC's history and gave an overview of the university, including its disciplinary development, oceanic exploration capabilities and strengths in polar research. He pointed out that OUC attaches great importance to polar research and hoped that this seminar will lead to fruitful future cooperation through deepening the two institutions' mutual understanding and facilitating such cooperation.
Director Ole Arve Misund expressed his thanks to OUC for the warm welcome and made some remarks about his institute and its research capabilities. He was full of confidence about this visit to OUC, believing that the seminar would facilitate the exchange of ideas and uncover scientific issues of common interest. He also expressed his hope to establish cooperative relations with OUC in polar research.
Prof. Zhao Jinping gave a presentation on the more than thirty polar expeditions conducted by the Key Polar Laboratory in the past decade. He displayed the achievements that OUC has made in the research of polar issues and climate change in five areas: the observation and inversion of Arctic sea ice thickness, major Arctic currents, the air-sea flux of Nordic seas, sea surface changes in the North Atlantic Ocean, and polar climate change and its impact on China.
Dr. Mats Granskog gave a presentation on the research into polar physical oceanography and sea ice optic observation conducted by the Norwegian Polar Institute.
Also in attendance were staff from the International Office and the Division of Science and Technology as well as the faculty from the Key Polar Laboratory. The two sides discovered areas of common interest for collaborative research related to the Arctic seas, the physical processes of sea ice, and polar climate change. Preliminary intentions were formed regarding an exchange program for graduate students. The two sides both expressed a wish to engage in further academic discussions and to form an official agreement on exchange and cooperation in polar research.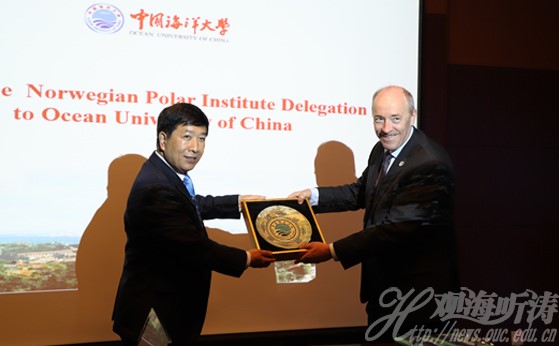 Prof. Wang Jianmin, Vice President for Finance of OUC, presented a souvenir to Director Ole Arve Misund
Original Article From: http://eweb.ouc.edu.cn/news/list.htm
Learn More and Apply: Ocean University of China