News.hust.edu.cn On the morning of May 16, the donation ceremony of E-Youngo Group (E-Youngo) for Huazhong University of Science and Technology (HUST) took place at Meeting Room 2, South Building 3, HUST. Chairman Liu Hongping and Vice President Liu Liu of E-Youngo; Li Wanyun, Director of the Teaching Department; Zhao Zhen, Director of the Marketing Department; Yang Jing, President of E-Youngo Wuhan; Xu Xiaodong, Member of the Standing Committee of the Party Committee and Vice President of HUST; and Yi Yuanxiang, Director of the Student Affairs Office attended the ceremony. Zhang Jinyuan, Deputy Director of the Student Affairs Office hosted the ceremony.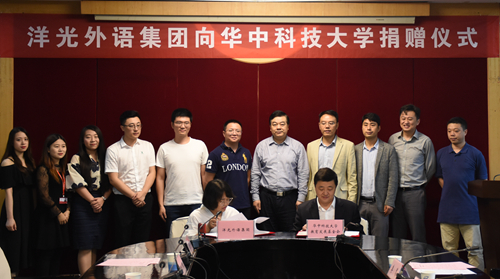 Yi introduced the donation and the outcomes of HUST's undergraduate training in recent years. Xu signed the donation agreement with Liu on behalf of Huazhong University of Science and Technology Education Development Foundation (HUSTEDF). Liu presented a check to Yi. Ma Guobin, Deputy Secretary General of HUSTEDF presented a commemorative plaque to Yang.
Liu reviewed the history of E-Youngo and introduced its student-centered development concept. She said the donation is a good start, hoping that E-Youngo would train all-round foreign language talents proficient in minority languages through school-enterprise cooperation to better serve the "Belt and Road" strategy.
Xu expressed thanks for the donation, introducing HUST's development in talent training, research innovation and entrepreneurship. The donation shows Chinese entrepreneurs' social responsibility and concern about education, and will further boost HUST's efforts in "double first-class university" construction, said he.
Founded in 2004, E-Youngo is a professional language training agency offering courses in Japanese, Korean, French, German and Spanish. Headquartered in Changsha, Hunan Province, E-Youngo has campuses in 10 Chinese cities. Under the principle of "sincere cooperation, advantage complementation, resource sharing and common development", E-Youngo donated 1 million yuan to HUST and set up "Youngo Foreign Language" Scholarship in HUST to reward undergraduates at the School of Foreign Languages, School of Management, Law School, School of Journalism and Information Communication and School of Humanities.
The heads of E-Youngo and HUSTEDF, as well as the heads and student representatives of the School of Foreign Languages and the School of Management attended the ceremony.
Original Article From: http://english.hust.edu.cn/About/News___Events.htm
Learn More and Apply: Huazhong University of Science and Technology