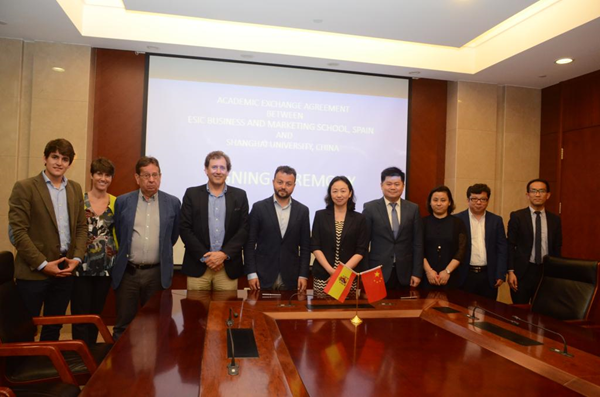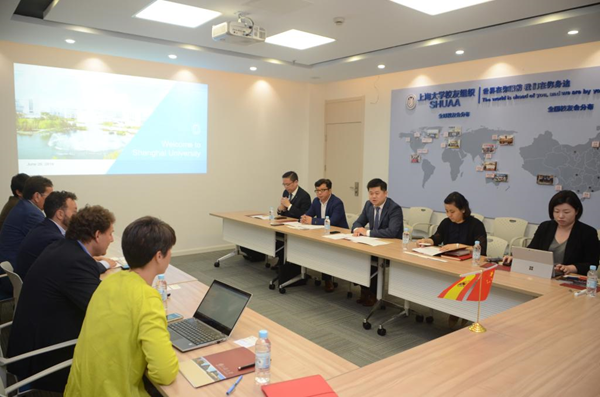 A delegation from the Spain-based ESIC Business & Marketing School led by President Eduardo Gomez visited SHU on June 26th. SHU Vice President Prof. Gong Siyi met the guests.
The meeting was chaired by Prof. Zhang Xiaotian, head of SHU Global. On behalf of SHU Global, he welcomed the guests and briefed construction of first-class business disciplines at SHU. Professor Eduardo Gomez introduced their purpose of the visit, expressed hope for bilateral cooperation and said he's glad to see the fields of cooperation expand from MBA to other aspects of economics. Finally, Professor Gong Siyi, Deputy Secretary of the Party Committee and Vice President of SHU, and Professor Eduardo Gomez signed a university-level cooperation agreement and an agreement about academic exchanges on behalf of respective universities.
ESIC Business & Marketing School is a top private business school in Spain. It boasts over 50 years of history and the biggest alumni networks in Spain, with the graduate employment rate ranking among the first in Europe. According to QS Business Masters Rankings 2019, the school takes the 74th, 42nd and 51st places in the world respectively in management, marketing and business analysis. The cooperation on the MBA program between ESIC Business & Marketing School and SHU has lasted for nearly a decade.
Original Article From: http://en.shu.edu.cn/news/index
Learn More and Apply: Shanghai University