On the afternoon of November 16th, Dr. Jonathan M. Crystal, Interim Provost of Fordham University and Dr. Ellen Fahey Smith, Associate Vice President led a delegation that visited SUFE. Vice President Yao Lingzhen met with the delegation.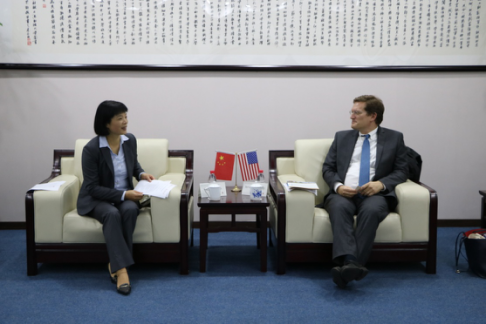 Vice President Yao Lingzhen extended a warm welcome to the delegation. She reviewed the profound friendship between the two universities and the fruitful cooperation in talent training and subject construction, and expressed gratitude to Fordham University for its support to the development of SUFE. She said that the internationalization strategy is an important part of the "Double First Class" construction of Shanghai University of Finance and Economics. SUFE has been maintaining close cooperation with various first-class universities in the United States. She hoped that the two universities would expand their cooperation fields and modes on the basis of existing cooperation, especially in teacher and student exchanges, student joint training, cooperative scientific research, summer courses and students' overseas practice, and both sides could carry out multi-level, comprehensive and in-depth cooperation to promote common development.
Dr. Jonathan M. Crystal thanked SUFE for the warm reception. He said that this trip was his first visit to SUFE, since he became the Interim Provost. He highly appraised SUFE's development and the excellent qualities of SUFE teachers and students. He said that this visit left a very good impression on him. He agreed with Vice President Yao Lingzhen's proposal that the two universities have a broad potential for cooperation.
During the meeting, directors of the Graduate School and the School of Law also introduced their respective schools and the programs for future cooperation. The two sides agreed to utilize the internationalization experience and subject advantages, gave full play to the geographical advantages of each school and carry out all-round and in-deep cooperation and exchanges.
SUFE leaders: Li Jinsong, Vice Dean of Graduate School, Ge Weijun, Vice Dean of Law School and Yu Hong, Vice Director Office of International Exchange and Cooperation attended the meeting.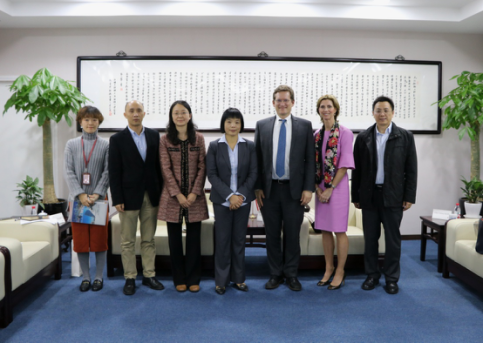 Founded in 1841, Fordham University is a first-class private research university. In 2017, it was ranked by the U.S. News & World Report no. 61 in "Best National Universities," with its law school ranked no. 36 of "America's Best Law Schools" and its Gabelli School of Business, undergraduate program was ranked no. 8 in the"Undergraduate International Business Rankings". It is composed of four undergraduate and six graduate schools
SUFE has maintained good communications with Fordham University for a long time. In 2015 and 2016, Fordham University signed the master's joint training project agreement with SUFE Law School and the College of Business. It is a major partner in our "Talent Development Base for International Organization" project.