SMU News, Apr. 26 On the morning of April 18, Dr.Hamdan AI Fazari, the vice president of Sohar University, Prof. Khalid AI. Qatiti, the president of the School of Continuing Education and the director of Arabic Language Center as well as another two colleagues paid a visit to SMU. Vice President Wang Yongzheng met with the guests at the conference room of the National Museum on Wuhou campus, with Ma Shanglin the president of the School of International Education also present at the meeting.
On behalf of more than 30,000 teachers and students from all 56 ethnic groups, Wang Yongzheng introduced our university's basic conditions and international cooperation and exchanges launched in recent 5 years. And he also invited guests to watch the publicity film of our school. In return, Dr. Hamdan AI Fazari briefly introduced Sohar University and talked about cooperation intensions in terms of academic communication and joint international students cultivation. After the meeting, these guests visited the Museum.
The cooperation with Sohar University provides more opportunities and choices for teachers and students to exchange and learn aboard. It also promotes multi-level educational cooperation in broad fields with countries along "the Belt and the Road".
News Link: Sohar University, located in the beautiful port city Sohar, is the most well-known university in Oman. The University adopts a western higher education system, with its faculty including experienced foreign experts and local Oman teachers. It sets such departments as International Trade, Art, Law, Management of Engineering, English, and SULC, etc. The Sohar University makes pioneering efforts in the innovation of education in the gulf countries and gets universally acknowledged from international education since it was established. It has also developed long-term cooperation with world top universities including the University of Oxford, The University of Queensland, Xi'an International Studies University.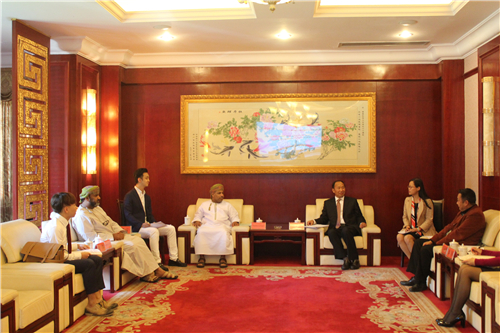 Original Article From: http://english.swun.edu.cn/News.htm
Learn More and Apply: Southwest University for Nationalities