On the afternoon of October 30th, a delegation of Hungarian higher education led by Márton Bélik, Deputy Director of the Hungarian Overseas Studies Department of the Hungarian Tempus Public Foundation (Hungarian Government Scholarship Agency) visited SUFE. SUFE Vice President Yao Lingzhen met with the delegation.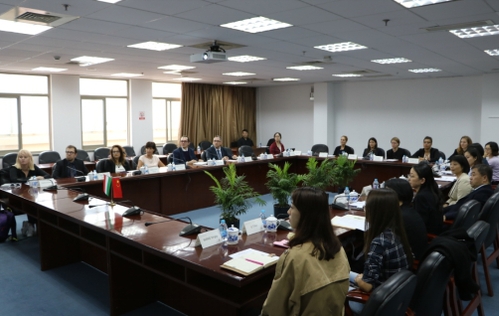 Yao Lingzhen extended a warm welcome to the Hungarian higher education delegation and introduced the history and international development of SUFE. She pointed out that since the founding of Shanghai University of Finance and Economics in 1917, the open talent training system and the internationalized concept of talent training have become "SUFE Genes". The achievements of the international school operations come from the inheritance of these concepts. She hopes to take the opportunity of this visit to strengthen exchanges and cooperation in personnel training and scientific research between the two groups.
Márton Bélik,, on behalf of the Hungarian higher education delegation, expressed gratitude to SUFE for its warm reception and said that the purpose of this visit was to deepen understanding and explore the possibility of more cooperation between Shanghai University of Finance and Economics and Hungarian universities in the future. During the meeting, the two sides exchanged information on school conditions, curriculum construction, student programs and more,He said hoped to seek cooperation paths and fields, and expressed that SUFE and Hungarian universities have rich potential for cooperation.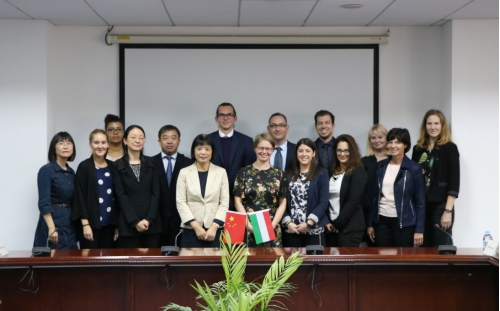 After the meeting, the delegation visited the SUFE History Museum and Business Museum.
Members of the delegation came from 9 Hungarian universities, including: Budapest University of Technology and Economics, University of Szeged, University of Pécs, Lorand Eotvos University, University of Debrecen, Szent lstván University, University of Dunaújváros, University of Miskolc and Budapest Tech.SUFE officials included: Li Hong, Director of the Office of International Exchange and Cooperation, Yu Hong, Deputy Director of Office of International Exchange and Cooperation, Yang Hong, Vice Dean of International Cultural Exchange School, Zhou Bo from School of Accounting, and Li Tifen from School of Economics, attended the meeting.