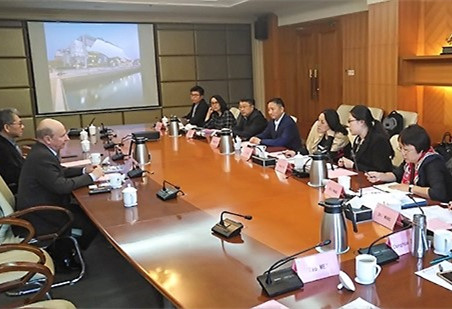 On October 30, 2018, Director Russell T. Hill of the Institute of Marine and Environmental Technology (IMET), University of Maryland, led a delegation to Ocean University of China (OUC). Vice President Yan Ju received the guests at the Academic Exchange Center and the two sides engaged in a discussion about student exchanges and research cooperation.
After expressing her welcome to the delegation, Prof. Yan said that OUC was a university featuring oceanography and fisheries, and that last year it was included in the A-category of the Double First-Class initiative, with marine sciences and fisheries selected to be developed into world-class disciplines. She expressed her hopes that OUC and IMET, which have established ties through student exchanges and research cooperation, can deepen the cooperation by expanding student exchanges in such fields as fisheries and marine biology, by exploring the possibility of developing dual-degree programs and by promoting teacher exchanges and further research cooperation.
Having extended his thanks for the warm reception, Dr. Russell T. Hill gave an overview of IMET as well as the University of Maryland, and then elaborated on the institute's four research focuses: food, energy, health and sustainable development. He said that IMET looked forward to more OUC students coming to study fisheries, marine biology and other subjects at the institute, and welcomed visits by OUC teachers, which would further the exchange and cooperation between IMET and OUC.
Prof. Shi Hongda, Executive Deputy Dean of OUC's Graduate School, moderated the meeting and gave a brief introduction to OUC's history, disciplinary strengths and graduate education. Prof. Wang Min, Deputy Dean of the College of Marine Life Sciences, and Prof. Wang Shi, gave an overview of the college's graduate cultivation and research. Representatives from the College of Fisheries, the Graduate School, the Division of Science and Technology and the International Office also attended the meeting and took part in the discussions.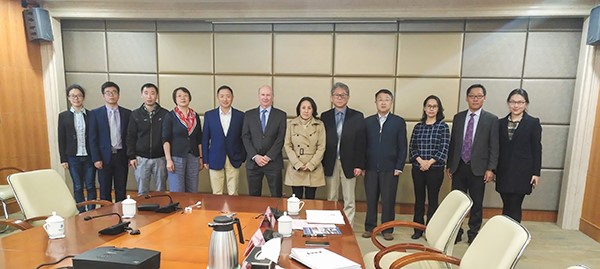 Original Article From: http://eweb.ouc.edu.cn/news/list.htm
Learn More and Apply: Ocean University of China