In the morning of June 3, the professorship inaugural ceremony of Mr. Paul T.K. Lam S.C. (Senior Counsel) was held at the Xueyuanlu Campus, CUPL.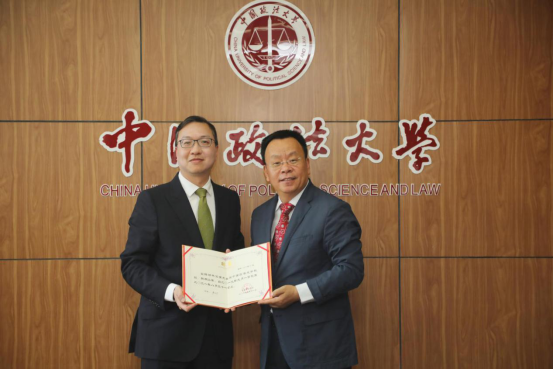 On behalf of the university, Vice President Shi Jianzhong expressed his congratulations to Mr. Paul T.K. Lam S.C. Prof. Shi pointed out that Mr. Paul T.K. Lam was not only a prestigious legal practitioner in the legal profession in Hong Kong, but also an outstanding scholar who was excellent in morality, teaching and research. His coming to the university to teach the "General Principles of Common Law" course would certainly promote the teaching of common law in our university.
Mr. Paul T.K. Lam said that he was very honored to work with the outstanding scholars of CUPL, and recalled his first visit to CUPL more than 20 years ago. He said that although there are differences in the legal systems between the mainland and Hong Kong, scholars in both places have the same adherence to the rule of law and the same enthusiasm for academic exchanges. Under the constitutional principle of "one country, two systems", legal talents must strengthen mutual understanding, and jointly take laws as a medium to build a path of peace for the world. Students from the mainland of China should also have a certain understanding of the common law system of Hong Kong in order to better engage in legal occupations, to serve the society, and to serve the country. Mr. Paul T.K. Lam said that he would do his best to teach the "General Principles of the Common Law" course so that students can learn and gain success.
Also attending the ceremony were Pan Xiaoda, the counsel of the Research Office of the committee for the Hong Kong and Macau Basic Law under the NPCSC, Shaw Shun Fat and Yuen Suk Ming, both of whom are solicitors and board directors of the Hong Kong Legal Education Fund Limited, Yao Guojian, Director of the Constitutional Law Research Institute of CUPL, and Liu Huimin, Executive Deputy Director of the Office of Talent Introduction of CUPL. The inaugural ceremony was moderated by Xu Lan, Director of the Office of International Communication and Exchange.
Original Article From: http://en.cupl.edu.cn/News_Events/News.htm
Learn More and Apply: China University of Political Science and Law