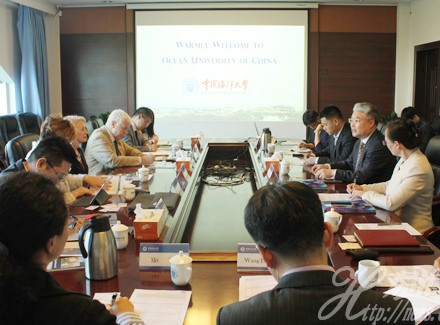 On May 9, a James Cook University (JCU) delegation, led by President Sandra Harding and Vice President Iain Gordon and Melissa Banks, visited Ocean University of China (OUC) from Australia. President Yu Zhigang of OUC met with the guests in the conference room of Xingyuan Building and the two sides had a meeting to discuss potential cooperation and the co-construction of IAMRI.
President Yu extended a warm welcome to the delegation and remarked on OUC's history, disciplinary characteristics, development strategy and the construction of the new Huangdao campus. With OUC's current position as a part of China's plan for developing world-class universities, President Yu said that OUC will further increase the university's cooperation with famous universities both at home and abroad.
President Yu commented that JCU is a university with profound academic achievements, with strengths in fisheries and biology. OUC and JCU share many similarities in their primary disciplines and scientific research. The two universities signed a cooperation agreement in 2004. As founding members of IAMRI, they already enjoy wide-reaching cooperation in marine science, life science and information technology. President Yu suggested that the two universities, as members of IAMRI, should take turns to hold academic seminars and should work together to promote scientific research and student development.
President Sandra Harding thanked the university for its warm welcome. She gave a brief introduction to JCU, which was established in 1970 and is a medium-sized Australian university. It currently has approximately 22,000 students and is one of Australia's top universities. JCU's main campuses are located in Townsville and Cairns in northern Queensland and it also has an international campus in Singapore. President Harding spoke positively about President Yu's comments and about her belief that the two universities have common research interests and broad cooperative potential in the fields of marine science and fisheries. As a member of IAMRI, JCU will also play an active role in the promotion of joint research and educational exchanges between the two sides.
At the meeting, Vice President Iain Gordon introduced the discipline setting and scientific research of JCU's College of Tropical Environment. Vice President Melissa Banks introduced the university's international cooperation. After the meeting, the delegation visited the Provincial Key Laboratory of Marine Engineering.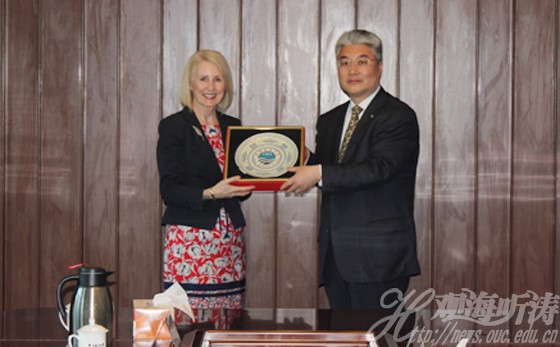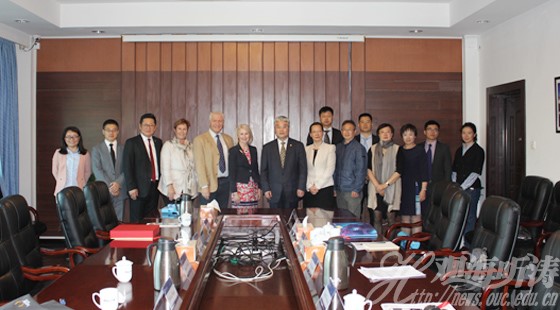 Original Article From: http://eweb.ouc.edu.cn/news/list.htm
Learn More and Apply: Ocean University of China