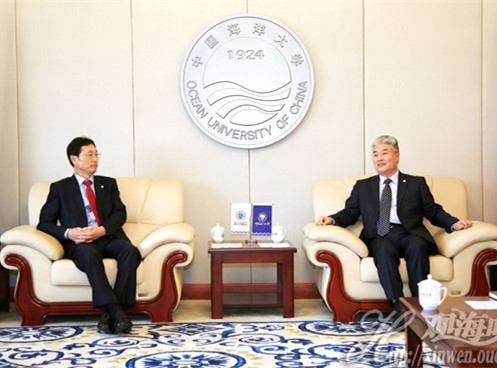 On October 22, 2018, President Park Han-il of Korea Maritime and Ocean University (KMOU) led a delegation to Ocean University of China (OUC). President Yu Zhigang received the guests.
After expressing his welcome to the delegation, President Yu first gave an overview of OUC's efforts to stand out as a world-class university, and then elaborated on the structure of its five discipline groups, the construction of the new campus on the west coast of Qingdao, the research vessel "Dong Fang Hong 3" and the Sanya Innovation Park of Marine Science and Education. He said that OUC, enjoying these new development opportunities, expected to learn from and support each other with its cooperative partners. After reviewing the exchange between OUC and KMOU, Yu showed his appreciation of the research cooperation, the exchange of teachers and students, and other fruitful results achieved since the signing of cooperation agreement in 2014, and looked forward to future collaborations. He also noted that OUC and KMOU – both of which are comprehensive universities featuring marine science, with similar disciplinary arrangements and geographical proximity – could enrich the existing cooperative agreement so as to expand the exchange and progress the research cooperation.
President Park extended his thanks for the reception. He recalled his visit to OUC's Yushan Campus in 2006, and gave an introduction to KMOU's development since he took office in 2012, including a new experimental vessel and the construction of a new campus. In addition, he also agreed with Yu to update the agreement in the hope of promoting a long-term cooperation that was built on the exchange of teachers and students.
Prof. Xiu Bin, Dean of the College of Liberal Arts, Journalism and Communication, gave an overview of the cooperation between the Institute of Maritime Culture Studies at OUC and the Institute of International Maritime Studies at KMOU. He then explained the exchange mechanism for the East Asian Marine Culture Association and East Asian Seaport Urban Research Conference, which the two institutes have both participated in, and then put forward some suggestions about student exchange and research cooperation in such fields as marine history and culture as well as international Chinese language education.
The meeting was also attended by OUC representatives from the International Office, the Korea Research Center and the College of Law and Political Science.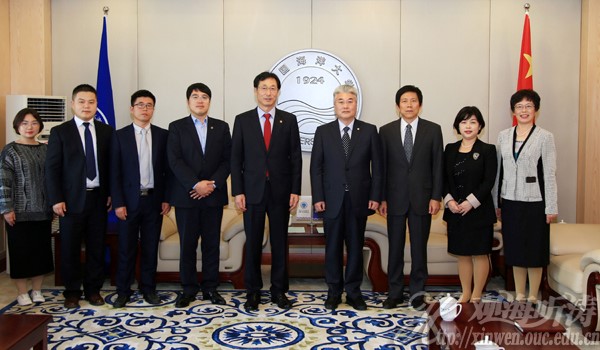 Original Article From: http://eweb.ouc.edu.cn/news/list.htm
Learn More and Apply: Ocean University of China