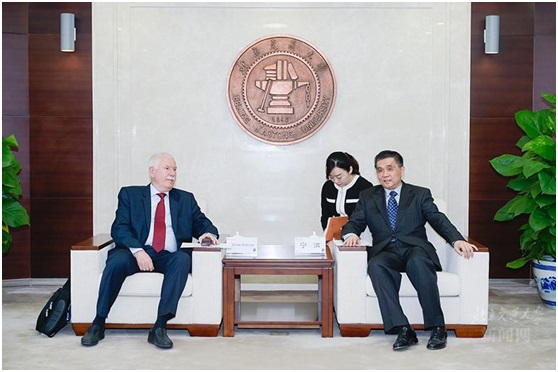 On the afternoon of May 16th, President NING Bin met with Chairman of the Committee of Organization for Railways Cooperation (OSJD) Tadeusz Szozda. Wang Jiayu, deputy director of the National Railway Administration of People's Republic of China (NRA), and other staff members from NRA also attended the event.
NING Bin welcomed the delegates and introduced the general information of BJTU and the achievements in subject setting, scientific research, university-enterprise cooperation, and internationalization development for the service of 'Belt and Road' Initiative. NING also enquired about the application progress of our university joining the OSJD and pointed out that BJTU hopes to join OSJD as an opportunity to undertake the training of international railways engineering personnel and cadres, to carry out the research of railway joint transportation laws and policies with the OSJD experts, and to provide intellectual and technical support for the construction of the Silk Road Economic Belt and the Eurasian Economic Union.
Tadeusz Szozda briefly introduced the founding background, the constitution and the upcoming activities of OSJD. He welcomed the joining of BJTU, and encouraged BJTU to cooperate with OSJD member institutions, participate in international rail transit particularly the joint transportation of Eurasian goods and enhance the competitiveness of global railway transportation under the framework of OSJD.
After the meeting, Ning Bin accompanied the delegation on the visit to the State Key Lab of Rail Traffic Control and Safety, the Structural Strength Testing Lab and several other campus facilities. He introduced in detail to Tadeusz Szozda about the full participation of BJTU in the construction of national rail transit and high-speed railways.
Original Article From: http://en.njtu.edu.cn/news_20161201183223846124/index.htm
Learn More and Apply: Beijing Jiaotong University