On June 19, 2019, the delegation of Russian State Hydrometeorological University (RSHU) led by Rector Valeriy Mikheev visited Ocean University of China (OUC). OUC's President Yu Zhigang received the guests on Laoshan Campus. The two sides engaged in discussions about cooperation on research and education in marine, atmospheric and polar sciences before signing a cooperation agreement.
After extending his warm welcome to the delegation, President Yu said that OUC, a comprehensive university featuring marine science and fisheries, stayed committed to the principle of opening up and embraced cooperation with institutions abroad. He stressed that Rector Valeriy Mikheev came at just the right time, as the year of 2019 marks the 70th anniversary of the establishment of China-Russia diplomatic ties and the comprehensive strategic partnership between the two countries are entering a new period. He also pointed out that the two institutions, with distinctive features and highly connected disciplinary strengths, had promising prospects for cooperation in oceanic, meteorological and polar research as well as in joint education, and expressed his hope that the two institutions could increase their cooperation based on the jointly established platform for China-Russia cooperation in higher education.
Rector Valeriy Mikheev expressed his thanks for the warm reception. He fully agreed with President Yu that OUC and RSHU, both members of the University of the Arctic, have many things in common. He said that RSHU, established in 1930, was the regional training center of WMO and Russia's center of science and education on Arctic climate, with excellence in hydrological, meteorological and Arctic research. He pointed out that RSHU attached great importance to its cooperation with OUC and expressed his expectation that the two institutions could conduct substantial cooperation in joint Arctic exploration and the sharing of marine research vessel.
Prof. Guan Changlong of the College of Oceanic and Atmospheric Sciences gave an overview of the college's talent cultivation and research progress, especially the excellent alumni and the achievements made by the polar research team. Prof. Qin Shanghai, Dean of the School of International Education, gave an introduction to the cultivation of international students, particularly the development of Russia students. Prof. Guo Peiqing of the School of International Affairs and Public Administration provided an overview of the cooperation in polar research between their research team on international politics and laws and Russia universities. Mr. Li Jinsong, President of Tangfeng Mandarin Education, accompanied RSHU Rector and introduced the company's progress in its "Internet Plus Education" program.
After the meeting, President Yu and Rector Valeriy Mikheev signed an MoU of cooperation and visited the Institute for Advanced Ocean Study and laboratories under the College of Oceanic and Atmospheric Sciences, accompanied by Chief Accountant Wang Jianmin.
Dr. Song Wenhong, Director of the International Office, moderated the meeting. Representatives from College of Oceanic and Atmospheric Sciences, School of International Affairs and Public Administration, College of Liberal Arts, Journalism and Communication, Academic Affairs Office, International Office and School of International Education also attended the meeting.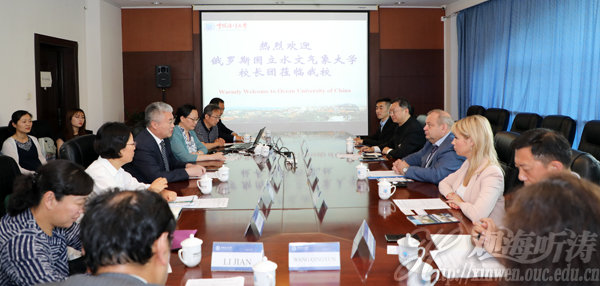 Original Article From: http://eweb.ouc.edu.cn/news/list.htm
Learn More and Apply: Ocean University of China