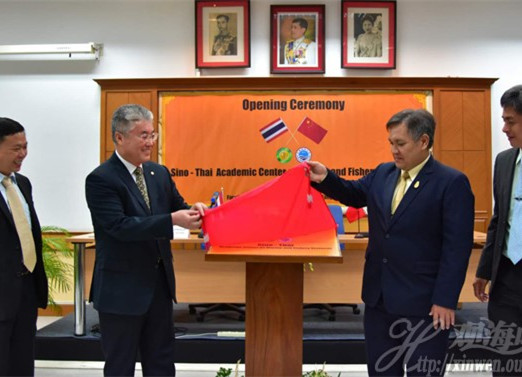 On November 1, 2017, the Sino-Thai Academic Center on Marine and Fishery Sciences, co-founded by Ocean University of China (OUC) and Kasetsart University (KU), held its opening ceremony in Bangkok (Thailand). Yu Zhigang, the President of OUC, Chongrak Wachrinrat, the President of KU, and Cao Zhouhua, the Chinese Consul in Thailand, attended the ceremony and delivered speeches.
President Yu expressed warm congratulations to the two universities as they entered this new stage of cooperation, and wholehearted thanks to the people who have supported this effort. He said that OUC, as part of the national plan of Double First-Rate universities, has distinctive strengths in oceanography and fishery science, while KU boasts strength in agricultural science including fishery science which ranks among the best in Thailand. As a result, the new center offers a strong and timely response to the priorities of both institutions. OUC sees the Sino-Thai Center as one of the most important platforms for international cooperation and therefore provides it with its full support. He hoped that the center would play a significant role in deepening the connection between the two universities and boost educational and technological cooperation in marine and fishery sciences so as to benefit the people of the two countries.
President Chongrak Wachrinrat extended a warm welcome to the OUC delegation led by President Yu and commended on establishment of the Sino-Thai Center. He gave a brief review of the founding process of the center and the promising results achieved since his visit to OUC last April.
Consul Cao Zhouhua congratulated the two institutions on the establishment of the center and commended their joint effort.
During the visit, the OUC delegation had multiple rounds of consultation with the Thai side on the details of the running of the center; in addition they participated in a bilateral academic seminar and visited teaching and research facilities such as the library, a food research institute and the food science research base at KU.
From 2018, the Sino-Thai Center will accept master's applications from around the world. Candidates will be registered at both OUC and KU on a jointly designed program of education. They will be co-supervised by professors at both universities and evaluated by a joint oral defense committee. Qualified candidates will be granted diplomas by the two universities.

Group Photo at the Opening Ceremony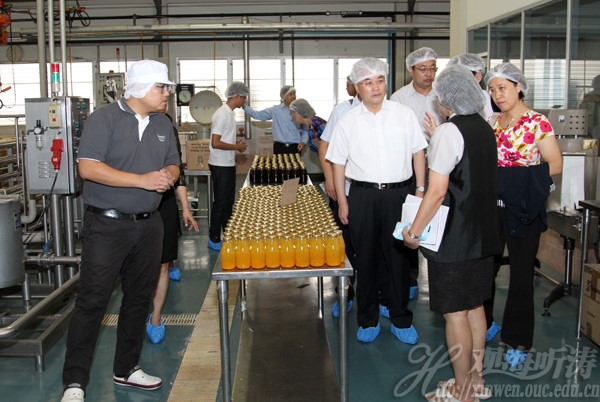 OUC Delegation Visits the Food Research Institute at KU
Original Article From: http://eweb.ouc.edu.cn/news/list.htm
Learn More and Apply: Ocean University of China