At the start of November, President Yu Zhigang of Ocean University of China (OUC) led a two-day delegation to Nanyang Technological University (NTU) in Singapore. Professors and staff from the School of Law and Political Science, the College of Economics, and the International Office joined the visit.
Prof. Er Meng Hwa, Vice President of NTU, greeted the OUC delegation in front of the university's administration building. After extending a warm welcome to the delegation, Vice President Er gave a presentation on the history of the university, its pedagogical philosophy, its scientific research achievements and its existing industry cooperation. He noted that NTU, a research-intensive public university, has undergone rapid development since it was founded in 1981, with fruitful results achieved in recent years. NTU places a strong emphasis on the internationalization of education and it values its cooperative relations with Chinese universities. NTU and OUC have multiple common areas of research, including marine strategy, the ocean economy and international relations.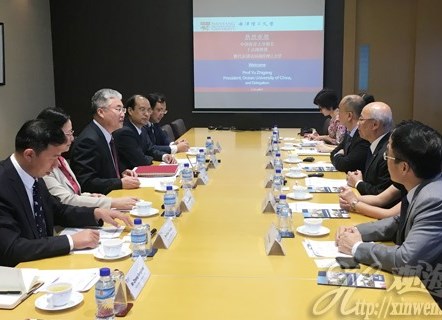 President Yu expressed his thanks to NTU for its warm welcome and high expectations for future cooperation. He pointed out that OUC is in the A Category of universities included in China's plan to build world-class universities and top-tier disciplines ("Double First-Rate"), which means that the university is entering a new phase of development. NTU also enjoys an international reputation and professors from the two institutions have already started working together in areas including marine strategy and port economy. Building on this, a more comprehensive and multi-disciplinary cooperation program can be developed.
Prof. Song Wenhong, Director of the International Office, talked about OUC's cooperation with international partners, especially its collaboration with universities and research institutes in ASEAN countries along the Maritime Silk Road. Dr. Dai Shiyan, Vice Dean of the Graduate School of Public Administration, introduced NTU's high-level training program. Participants of the two institutions then discussed topics of common interest before joining the staff of the NTU International Affairs Office in a visit to the Hive, a 24/7 study center, as well as on a tour of the Chinese Heritage Center and the campus's historic buildings.
Members of the OUC delegation later participated in a roundtable on the theme of "Frontier Issues in Global Ocean Governance and the Solutions Offered by International Cooperation" at the invitation of NTU. Prof. Liu Shuguang of OUC delivered a report on maritime governance outside of national jurisdictions from the perspective of spatial economics. Prof. Guo Peiqing of OUC delivered a report on the opportunities for and possibilities of China-Singapore research cooperation on Arctic governance.
The following day, President Yu met with Dr. Ren Loujing, Director of the Department of Liquid Dynamics at Singapore's Institute of High Performance Computing, and Mr. Chen Haoliang, who are both OUC alumni.
This visit to NTU helped to establish closer links between the two universities. In addition, it deepened the mutual understanding between the two institutions, and it contributed to OUC's efforts to develop academic cooperation with universities in countries along the Maritime Silk Road as a response to the country's Belt and Road Initiative.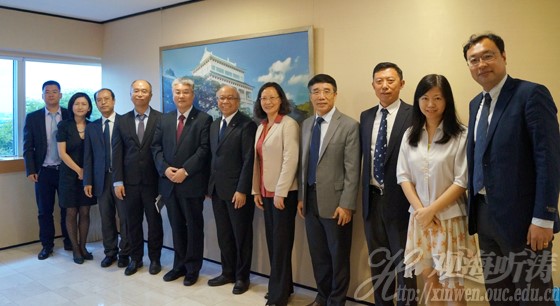 Original Article From: http://eweb.ouc.edu.cn/news/list.htm
Learn More and Apply: Ocean University of China