On the morning of February 21st, Mark R. Nemec, President of Fairfield University and Li Zhan, Dean of the Charles F. Dolan School of Business of Fairfield visited SUFE. President Jiang Chuanhai met with the delegation and the two sides signed a cooperation agreement.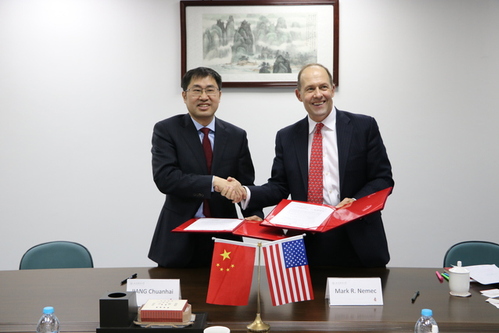 President Jiang Chuanhai extended a warm welcome to President Nemec and the delegation. He gave a general introduction of SUFE and the international exchanges and cooperation in recent years. President Jiang said that Shanghai University of Finance and Economics attaches great importance to international exchanges and encourages students to expand their overseas horizons. SUFE has maintained cooperation and exchanges with many excellent American universities. He hopes to take this opportunity to exchange experiences, deepen the understanding of both sides, promote substantive cooperation and achieve mutual benefit.
President Mark R. Nemec expressed sincere gratitude for the warm reception of SUFE. He highly appreciated the achievements of Shanghai University of Finance and Economics in recent years. He also introduced the development, subjects, disciplines and international cooperation projects of Fairfield University. He noted that Shanghai University of Finance and Economics is a famous University of Finance and economics in China. Fairfield University attaches great importance to exchanges and cooperation with SUFE. He hoped that the two sides could cooperate in scientific research and joint training of students in the future, and looked forward to substantive results of cooperation.
During the meeting, the two sides also introduced the development of their respective business schools, and discussed the issues of undergraduate, postgraduate exchange projects, scholar exchanges and cooperation in the field of business.Both sides agree to reached a good level of cooperation.
After the meeting, President Jiang Chuanhai and President Mark R. Nemec signed the memorandum of cooperation on behalf of both sides.
Wei Hang, Executive Vice President of College of Business, Li Hong, Director of Office of International Exchange and Cooperation and Yu Hong, Deputy Director of Office of International Exchange and Cooperation also attended the meeting.
Founded in 1942, Fairfield University is a private research university located in Connecticut. It is a member of Phi Beta Kappa, the oldest academic honor society in the United States. The school has five colleges: the Fairfield University College of Arts and Sciences, the Charles F. Dolan School of Business, the School of Engineering, the Marion Peckham Egan School of Nursing and Health Studies, and the Graduate School of Education and Allied Professions. The university offers 44 majors and 19 minors for undergraduate students, as well as 41 different graduate programs. According to the ranking of U.S. News & World Report in 2019, It ranks No. 1 among Northern Regional Universities of the United States, No. 4 in undergraduate teaching in the United States, No. 1 in accounting in Connecticut. According to in Princeton Review, Its MBA is one of the best in-school courses in Northeast America and according to College Scorecard, Fairfield graduates' starting salary ranks second in Connecticut.
Both sides look forward to many years of fruitful cooperation.