On May 11th, The 12th World Russian Assembly opened at Shanghai International Studies University. Prof.Lyudmila Verbitskaja, President of the International Association of Teachers of Russian Language and
Literature (MAPRYAL), presented the Pushkin Medal to SDU Prof. Cong Yaping, School of Foreign Languages and Literature, for the outstanding work she has done in the study and teaching of Russian over the past 30 years.
The Pushkin Medal represents the highest distinction in Russian teaching and research at the global level. Established by Culture of Russia, the Pushkin Medal is mainly issued to social activists, experts and scholars who have made outstanding contributions to the study, teaching and promotion of Russian language and culture. Every year there are no more than 10 awardwinners world-wide.
The World Russian Assembly is hosted every four years by MAPRYAL. This assembly marks the first time it has been held in Asia since MAPRYAL was founded in 1967.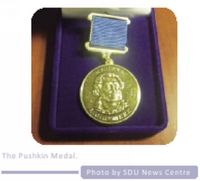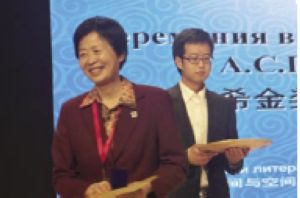 Original Article From: http://www.en.sdu.edu.cn/News.htm
Learn More and Apply: Shandong University