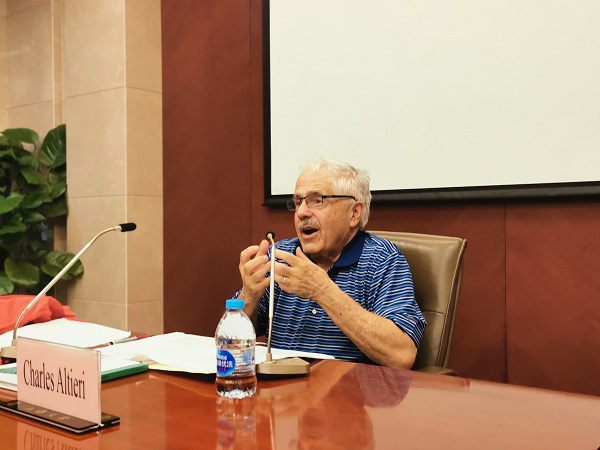 On the afternoon of May 27, Charles Altieri, academician of the American Academy of Arts and Sciences and chair professor of the English Department of University of California, Berkeley, was invited to give a lecture entitled "Why Pound Must Reject Imagism" at the SHU School of Foreign Languages. The lecture was chaired by Professor Shang Xiaojin, Director of SHU English Literature and Culture Research Center, attended by Professor Yu Jianhua from Shanghai International Studies University, Professor Yu Youming from East China Normal University, and Professor Tan Xudong from SHU College of Liberal Arts. Over 40 teachers and students from College of Liberal Arts and School of Foreign Languages took part in this academic activity.
Professor Altieri is an academician of American Academy of Arts and Sciences and a leading scholar in the studies of modern and contemporary English poetry and poetics. He has made remarkable achievements in modern and contemporary American poetry research. He serves as the Chairman of American Philosophical Society (Pacific coast), executive committee member of International Association for Literature and Philosophy, Modern Language Association, and worked in the editorial board of well-known Journals such as PMLA, Boundary 2, MLQ, Poesis, American Poetry and Contemporary Literature.
During the lecture, Professor Altieri read Pound's Poems passionately and gave vivid explanations on the charm of "melopoeia" and "phanopoeia" presented in Pound's works. Professor Altieri's report is full of the wisdom of philosophy, showing his broad vision, active thinking inclination and enthusiasm for academic researches. The discussions among Professor Altieri and scholars represented by Professor Yu Jianhua from Shanghai International Studies University enhanced the academic connotation of the report, enabling teachers and students to adequately feel the charm of poetry and philosophy.
Original Article From: http://en.shu.edu.cn/news/index
Learn More and Apply: Shanghai University