June 3rd marked the inauguration of SDU's Institute for Advanced Study (IAS).Du Zhanyuan, Vice Minister of the Ministry of Education, and Cai Limin, Vice Governor of Shandong Province, attended the unveiling ceremony.
President Xu Xianming appointed Prof.Peng Shige, Prof. Liu Jianya, etc. as Chief Experts of the institute, with Prof. Peng Shige as the Director.
IAS would not only inject new energy into SDU but also boost Shandong Province's overall economic and educational development. Cai expects the IAS to meet Shandong Province's development strategy and support its modernization with more advanced technologies and outstanding personnel.
Prof. E. Weinan of Princeton University and Academicians Ma Zhiming and Guo Lei from the Chinese Academy of Sciences also congratulated SDU on the establishment of the institute. Guo stated it would be another important platform for the Chinese Academy of Sciences and SDU to further their coVice Minister Du Zhanyuan expressed his congratulations and promised on behalf of the Ministry of Education to keep supporting SDU in education reform and development. He expected the IAS to promote higher education by producing high level scientific research and developing into a world-class research and teaching center.Vice Governor Cai Limin said theoperation.
In his speech, Xu stated that the establishment of the IAS is a milestone for SDU. Xu also emphasized 3 points in regards to developing the institute: the first is to construct a management system that will serve the best interests of research, without imposing administrative pressure on the researchers; second is to offer scientists with adequate research funds, comfortable space and favorable treatment; and third is to encourage and help students release their potential and foster creativity.
The SDU Institute for Advanced Study is devoted to working on the most advanced theoretical research, recruiting distinguished scholars from China and abroad, nurturing young talents, making original contributions in areas such as mathematics and natural science, and promoting international communication and exchanges.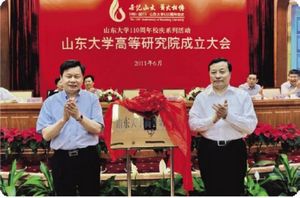 Original Article From: http://www.en.sdu.edu.cn/News.htm
Learn More and Apply: Shandong University