On September 17th, Vice President Yao Lingzhen led a delegation to visit SGH Warsaw School of Economics and signed a memorandum of understanding for future on cooperation.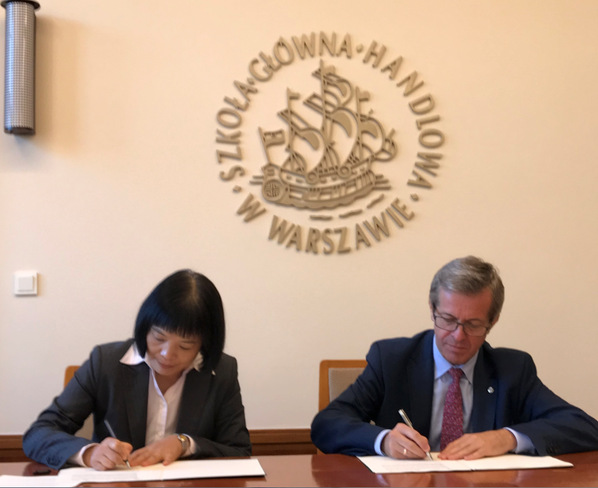 Professor Jacek Prokop, Vice President of SGH Warsaw School of Economics, met with the delegation. Both parties held sincere and friendly talks. The two sides introduced the development and internationalization of the two schools and exchanged experiences and trends of education development under the background of globalization. After a discussion on the foundation for cooperation and prospects of the two schools and on the basis of fully exploring talent training, scientific research cooperation and teachers and students exchanges, the two schools reached a cooperative intention and agreed to sign a cooperation agreement. This agreement also formed as a part of the SUFE "Belt and Road" cooperation project.
Subsequently, Vice President Yao Lingzhen and Vice President Jacek Prokop signed a MOU and a student exchange agreement under the joint witness of representatives from both sides.
Grzegorz M. Augustyniak, SGH CEMS Programme Manager, Li Hong, Director of International Exchange and Cooperation Office, Sun Yan, Vice Dean of the School of Economics and Zhang Jinhua, Deputy Director of the President's office attended the meeting.
The Warsaw School of Economics (SGH) is located in Warsaw, Poland. It was founded in 1906. It is the oldest university of economics in Poland and one of the leading universities of economics in Europe. It is a top business education institution in Central and Eastern Europe and a full member of CEMS and PIM. According to European Business School ranking from the Financial Times 2017, it ranked 76th, one of the two Polish universities on the list.