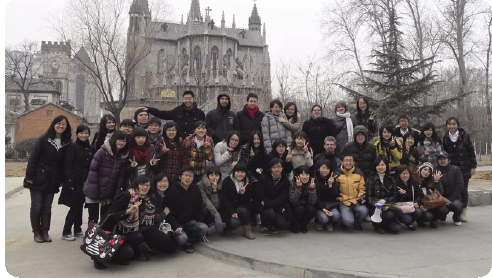 On February 26th, the Students' International Communication Association (SICA) of SDU organized an orientaton event for international exchange students. More than 20 exchange students from 4 different continents, as well as other professors from the SDU International Office, were present at the event.
Mr. Li Guoqiang, Deputy Director of the SDU International Office, extended a warm welcome to the exchange students. In his speech, Li hoped that the students ambassadors could help strengthen the ties between SDU and its partner universities. In addition, he hoped that the students would enjoy their school life at SDU.
Afterwards, the newcomers watched a short video presentation on the university, which was followed by a presentation filled with a variety of tips and practical knowledge about how to live and study at SDU. Current exchange students were also invited to speak about their experiences at SDU.
Last, the students were guided by SICA members to visit the five other campuses in Jinan and were given the opportunity to create some Chinese ceramics at the Engineering Training Center on Xinglongshan Campus.
Original Article From: http://www.en.sdu.edu.cn/News.htm
Learn More and Apply: Shandong University