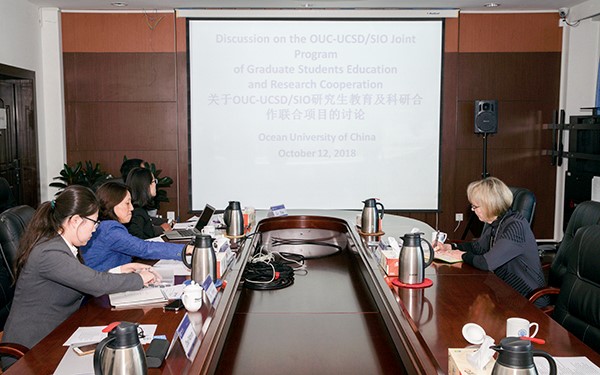 On October 12, 2018, Director Margaret Leinen of the Scripps Institution of Oceanography (SIO) visited Ocean University of China (OUC). Vice President Yan Ju received the guests in the fourth conference room of the Xingyuan Building, and the two sides engaged in an in-depth discussion about the joint education program for graduate students.
After expressing her warm welcome to the guests in her address, Vice President Yan told the group that Director Leinen had led a delegation to OUC in 2014 and 2015, and signed cooperation agreements. Professor Yan expressed her hopes that the two sides could build on these past agreements and further their cooperative efforts to jointly cultivate graduate students, including creating a specific plan for dual-degree programs, so as to provide outstanding students in the marine field with better opportunities. She also put forward concrete proposals and mechanisms for future collaboration.
Leinen explained that the SIO is a top marine research institute, covering the fields of oceanic and atmospheric research, earth science and biology. The institute's professors have worked closely with their Chinese counterparts, especially with those from OUC, in marine natural products and marine drug development. The two sides, therefore, are in a good position to conduct pilot projects of joint cultivation in existing cooperative areas such as climate modeling, and to keep improving these projects with their experience accumulated. She noted that, after returning home, she would meet with the international cooperation department to draw up a plan for collaboration.
Professor Wang Caixia of the College of Oceanic and Atmospheric Sciences explained the preliminary plan for the joint project in terms of student selection, joint funds, curriculum and research cooperation, followed by a discussion. The two sides will sign a memorandum in light of the consensus reached at this meeting and further communicate on the joint program.
Original Article From: http://eweb.ouc.edu.cn/news/list.htm
Learn More and Apply: Ocean University of China