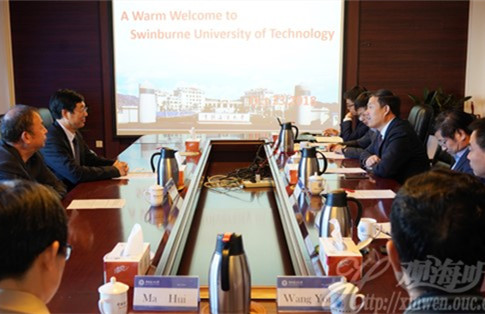 On October 23, 2018, Pro Vice-Chancellor Qing-Long Han of Australia's Swinburne University of Technology (SUT) visited Ocean University of China (OUC). Prof. Li Huajun, Academician and OUC's Vice President, received the guests, and the two sides engaged in a discussion about joint education and research cooperation.
After expressing his welcome to Pro Vice-Chancellor Qing-Long Han, Vice President Li told the delegation that OUC was a national key university under Project 985 and Project 211, and that last year it was included in the list of Double First-Class Initiative to develop into a world-class university, which brought the university opportunities as well as challenges. As international cooperation is an important way to build a first-class institution, OUC has always emphasized expanded partnerships with top institutions around the world. SUT is a prestigious university of science and engineering in Australia, with disciplinary strengths in the fields of computer science, electronics, physics and engineering. The two institutions, therefore, enjoy great prospects for cooperation. Li expressed his hope that the joint education programs could target graduate students first, and then expand to undergraduates. Meanwhile, he said, the two universities should encourage researchers from both sides to hold joint academic seminars so as to promote scientific cooperation.
Pro Vice-Chancellor Qing-Long Han extended his thanks for the warm reception. He gave an overview of SUT's history, scale, advantageous disciplines and cooperation with Chinese institutions. He expressed his expectation that SUT could, with the experience gained from previous cooperation with Chinese universities, carry out practical collaborations with OUC in the joint education of graduate students and scientific research, achieving a mutually beneficial outcome.
Mr. Wang Hanlin, Deputy Director of the International Office, moderated the meeting and gave a brief introduction to OUC. Representatives from the Graduate School and the College of Information Science and Engineering also attended the meeting, and took part in an in-depth discussion about joint education and scientific research.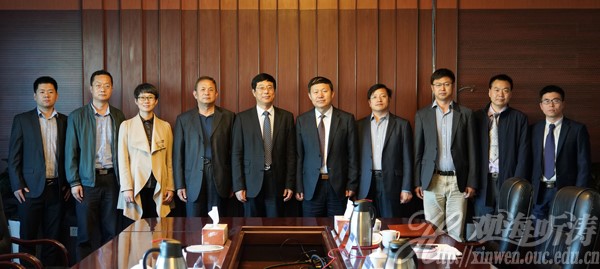 Original Article From: http://eweb.ouc.edu.cn/news/list.htm
Learn More and Apply: Ocean University of China