SWUN News, Oct.8th This morning, Sichuan Provincial Government held the signing ceremony of strategic cooperation agreements with Sichuan University, University of Electronic Science and Technology of China, Southwest Jiaotong University, Southwestern University of Finance and Economics, Southwest University for Nationalities and Civil Aviation Flight University of China. The Provincial Party Secretary Wang Dongming attended the ceremony, and Yin Li, the deputy secretary, and governor delivered a speech.
Vice Governor Yang Xingping signed the cooperation agreement with the President Zeng Ming under the witness of members of the Standing Committee of Provincial Party Committee including Minister of Organization Department Fan Ruiping, Secretary-General of Provincial Party Committee Wu Jinping and Minister of Propaganda Department Gan Lin, and Vice Governor Liu Jie and Wang Minghui, and SWUN Party Committee Secretary Bian Jing as well as other comrades in institutions in Sichuan.
According to the agreement, during the 13th Five-Year Plan, the Sichuan government, together with SWUN, will strive to build national comprehensive demonstration park of ecological animal husbandry on the Qinghai- Tibetan Plateau, to set up the national laboratory of the protection and utilization of Qinghai- Tibetan animal genetic resources, to establish engineering technological center of the Internet plus Intelligent detection and its application on Qinghai-Tibetan Plateau grass and livestock, and to promote regional development and think tank of social governance research. The offer of SWUN doctoral programs including Animal Husbandry, Chinese Language and Literature, Applied Economics and Philosophy will also be on the agenda. The training bases of intangible cultural heritage research and ethnic culture teaching and research will be put into practice. The production-teaching-research bases of ethnic tourism and planning of urban and rural construction in ethnic areas will be taken into account. Both parties will work hard to set up innovative and venture bases for overseas top talents concerning ethnic culture and ecological livestock on Qinghai-Tibetan Plateau. We will jointly develop personnel training projects in ethnic areas, and build ethnic cadre colleges and training bases of bilingual talents at ethnic areas in Sichuan Province.
News links: Sichuan Provincial People's Government signed strategic cooperation agreements with six universities administered by ministers in Sichuan. Both sides, focusing on major strategic deployments over the 13th Five-Year period, seek corresponding points of development strategy. 65 key cooperative projects have been proposed, which comprise consultation of strategic decision, conversion of technological innovation and accomplishments, educational partnership, cadre training, and support for the construction of first-class universities. The cooperation is featured with targeting, accuracy, and effectiveness, which is bound to set an example for the strategic cooperation of provincial universities. It is also conducive to overall innovative reforms in Sichuan and puts forward its development of first-class colleges and universities.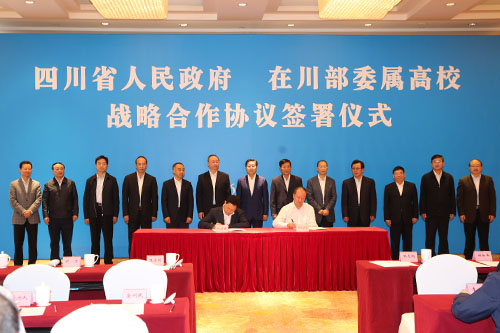 Original Article From: http://english.swun.edu.cn/News.htm
Learn More and Apply: Southwest University for Nationalities