On June 2nd, representatives from Saint Vincent College and Shandong University met to renew a formal agreement on cooperative and friendly relations and to discuss possible research collaborations in the area of urban development and urban planning.
Vice-President Zhang Yun and delegates from the SDU School of Political Science and Public Administration along with the International Office welcomed Dr. Norman Hipps, President of Saint Vincent College;Dr. Gary Quinlivan, Dean of the Alex G. McKenna School of Business, Economics, and Government; and Alice Kaylor, Dean of Studies.
At the meeting,Dr. Quinlivan noted SDU's exceptional GIS facility and expressed a research interest in the area of urban planning. In addition, Dr. Quinlivan stated that some professors might be interested in coming to SDU to offer condensed short-term courses in English. Mr. Li Guoqiang, Deputy Director of the International Office, explained that under SDU's Faculty Mobility Program, these professors' airfare would be covered and a weekly stipend would be provided.
Also during the meeting, Prof. Ge Quan, Dean of the SDU School of Political Science and Public Administration, announced that the research proposal for the Politics and Urban Development Program has been approved by the university administration and is now in the second stage of planning. The general aim of the program is to conduct field research that will result in policy advice regarding subjects such as the co-development of rural and urban areas by government and industries, equal access to public services,community and public crisis management, quality of life, and so on. There was also talk of the possibility of a new research centre dedicated to studying the relationship between economic development and quality of life.
Cooperative relations between Saint Vincent College and SDU date back to 1994; the signing of this agreement marks the 17th year of their continued cooperation.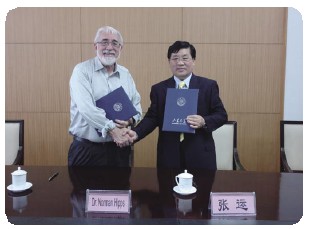 Original Article From: http://www.en.sdu.edu.cn/News.htm
Learn More and Apply: Shandong University