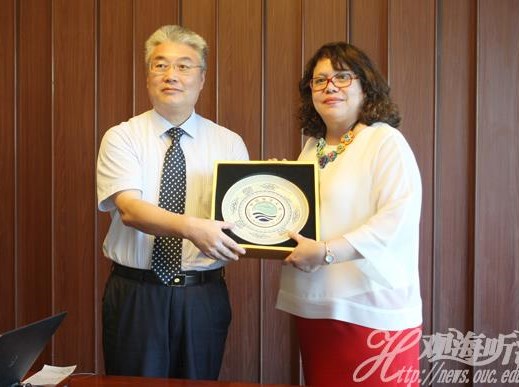 On August 30, Seychelles Ambassador to China Ms. Vivianne Fock Tave led a delegation of 5 to OUC. President Yu Zhigang and Assistant President Wu Qiangming, also member of CPC Standing Committee at OUC, received the guests in the Second Conference Room of Xingyuan Building where they had a fruitful discussion.
  
President Yu extends warm welcome to the delegation. He notes that Seychelles is a beautiful island country with abundant marine and fishery resources and prosperous tourist industry, while OUC is a key comprehensive university under direct administration of the Ministry of Education that features subject fields of oceanography and fisheries. He hopes that this meeting with Ambassador Fock Tave will shed light on potential areas of cooperation including marine science, exploration of fishery resources, marine economic development, seafood processing, marine drug research and development, and aquaculture.
Ambassador Fock Tave commends the long-standing friendship between China and Seychelles, and appreciates the help that China has offered in support of Seychelles' economic development. She points out that the reason why she decided on visiting Qingdao as the first stop of her visit around China is because of the city's shared advantage with Seychelles in geographic location and marine development. She speaks highly of OUC in terms of its marine scientific research and talent cultivation, hoping that cooperative relations could be set up between OUC and the University of Seychelles and students from Seychelles could come over to study 
Representatives from the College of Economics, College of Fisheries and College of Marine Life Science each introduce their colleges, noting that substantive cooperation and exchanges with the University of Seychelles and other research institutions in Seychelles could be carried out in order to build on existing advantages in relevant academic fields and improve talent education systems.
The participants watched OUC's English video promo For Ocean and exchanged gifts. Related staff from the International Office of OUC also attended the meeting.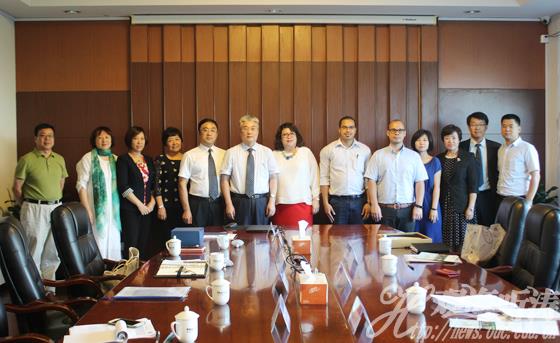 Original Article From: http://eweb.ouc.edu.cn/news/list.htm
Learn More and Apply: Ocean University of China