In the afternoon of April 12, 2019, the Sino-German Roundtable Discussion on Deepening Partner Universities Cooperation was Successfully Held at the Xueyuanlu Campus, CUPL. Prof. Gao Huanyue, Vice Chair of CUPL Council, Prof. Ma Huaide, Vice President of CUPL, Prof. Ulf Richter, Head of Administration of Universität Siegen, and Prof. Hanna Schramm-Klein, Vice President of Universität Siegen, attended the meeting together with over 50 people, including leaders, experts, scholars and relevant department heads from Beijing Normal University, Beijing University of Aeronautics and Astronautics, Beijing Institute of Technology, Beijing Foreign Studies University, China University of Political Science and Law, Nankai University, Northeastern University, Tongji University, Nanjing University of Aeronautics and Astronautics, Zhejiang University, Zhengzhou University, Beijing University of Technology, Nanjing Normal University, Guangdong University of Foreign Studies, Qingdao University of Science and Technology, Chengdu University of Information Technology, and Deutscher Akademischer Austausch Dienst (DAAD). The meeting was co-sponsored by Universität Siegen and CUPL.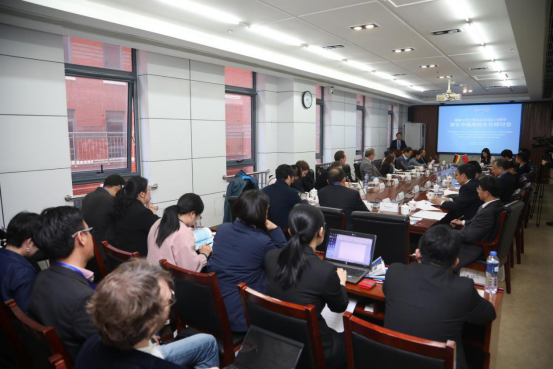 During the opening ceremony, Prof. Ma Huaide, Prof. Hanna Schramm-Klein and Prof. Ulf Richter delivered opening remarks on behalf of the sponsors of the meeting. Prof. Ma first expressed a warm welcome to all delegates and expressed his heartfelt congratulations on the 10th anniversary of the establishment of the China Branch Office of Universität Siegen. He then introduced the academic features, school-running achievements and international cooperation of CUPL, especially its cooperation with Germany. With the Sino-German relations alleviated to a higher state in recent years, the frequent exchanges of visits between the two countries, the continuous expansion of bilateral cooperation in the fields of education and culture, and the fruitful results, Prof. Ma believed that the establishment of a world high-level university was a process of transcending borders and races, mutual-learning of civilizations, gathering of wisdom and hand-in-hand cooperating. The meeting provided a good platform for mutual exchanges and experience sharing between experts and scholars of Chinese and German universities, as well as an opportunity to further explore and enhance the all-round cooperation among universities in the two countries. It is also a significant event after the Project Office of German Universities in China was set up in CUPL.
Hanna Schramm-Klein and Ulf Richter mentioned in their speeches that with the deepening of Sino-German exchanges and the diversification of exchanges, China Branch Office of Universität Siegen would become an important window for Universität Siegen to present the University, the city and even Germany as a whole to Chinese students and scholars; at the same time, the China Branch Office would committed not only to expanding and maintaining the exchanges and cooperation between Universität Siegen and its Chinese partner universities, but also to providing all-round support and assistance to Chinese students and scholars studying and working in Germany.
During the roundtable discussion, Rhphaela Averkorn, Professor from the School of Humanities and Philosophy at Universität Siegen, Zhang Xu, Professor of the School of Mechanical and Engineering at Beijing Institute of Technology, Xie Libin, Associate Dean of the College of Comparative Law Institute and Dean of the Sino-German Law School at CUPL, Jiang Tao, Dean of Control Engineering at Chengdu University of Information Engineering, and Peter Burggräf, Professor of International Production Engineering and Management at Universität Siegen, respectively delivered speeches themed on "The Successful Model of Cooperation Between Universität Siegen and Chinese Universities", "The International Training of Mechanical Engineering Students—German Exchange Student Project", "Successful Model of Sino-German University Cooperation - Taking Sino-German Law School as an Example", "Sino-German University Cooperation in Intelligent Transportation Field - From Scientific Research to Industry", and "Digital Transformation of Future Factory: A New Opportunity for Sino-German Cooperation".
At the end of the meeting, Prof. Gao Huanyue made a concluding speech. She said that although the roundtable discussion was short, it brought together elites and experts and scholars from Chinese and German universities to summarize successful cooperation modes in personnel training, scientific research, social services, cultural heritage and innovation, international exchanges, and to share cooperation experience, with the objective of assisting students, teachers and researchers of the two countries to cooperate and exchange in more models, wider fields and higher levels in the future.
Ruan Guangyu, Associate Dean and Vice Party Secretary of the School of Marxism in CUPL, Xu Lan, Director of the Office of International Cooperation and Exchange, and Lv Yong, Deputy Director of the Office of International Cooperation and Exchange, and representatives from the School of Foreign Studies and the China-EU School of Law also participated in the above activities.
Original Article From: http://en.cupl.edu.cn/News_Events/News.htm
Learn More and Apply: China University of Political Science and Law