On the morning of 6th July, Vice President GUAN Zhongliang met with the Deputy Director General of University Education, Dr. Diane Parker, Chief Director of International Relation, Mr. Ghaleeb Jeppie, and other delegates from South African Ministry of Higher Education and Training (MHET). The two sides had an in-depth discussion regarding the educational cooperation and communication between BJTU and South Africa.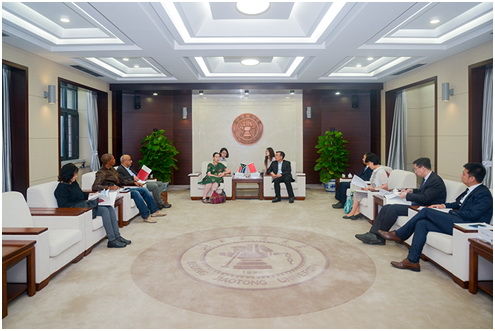 GUAN welcomed the delegation and made a general introduction of BJTU and railway operation and management training programmes for foreign students. He hoped that the visit of MHET delegation provides an opportunity for BJTU to build contact with South African government and higher education institutes, and that more cooperation in degree education and short-term training programmes can be unfolded based on the need of infrastructure construction in South Africa.
Dr. Parker appreciated the reception and company by BJTU staff members during the delegation's visit and introduced the educational cooperation between South Africa and China. She expressed her positive attitudes towards facilitating the cooperation between BJTU and South African universities in rail transit and other advantageous disciplines and expected fruitful cooperation achieved by the two sides.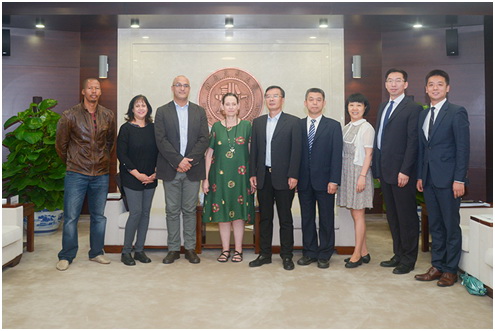 Before the meeting, the delegation visited the National Engineering Research Centre of Rail Transportation Operation and Control System. The directors of National Education and Service Centre of Rail Transportation Technology, School of Electrical Engineering, Office of Scientific Research, Office of International Affairs participated the meeting.
The delegation was invited by the Ministry of Education of PRC to attend the 5th Meeting of BRICS Education Ministers and visited BJTU. GUAN also accompanied the delegation to attend the meeting.
Original Article From: http://en.njtu.edu.cn/news_20161201183223846124/index.htm
Learn More and Apply: Beijing Jiaotong University