On May 7th, the opening ceremony of the Eighteenth International Cultural Festival and the International Food Carnival was held at Green Leaf Pedestrian Street on Guoding Road Campus. The theme of the Cultural Festival is "Dream pursuer, World together". A series of events was staged over in the following week. Leaders of SUFE, Xu Tao, Jiang Chuanhai, Chen Hong, Liu Lanjuan, Fang Hua, Chen Xinyuan, Yao Lingzhen, Zhu Mingxiong, Zheng Shaohua, Liu Qingsheng, Zhang Yiguo and leaders from the relevant departments and schools attended the opening ceremony.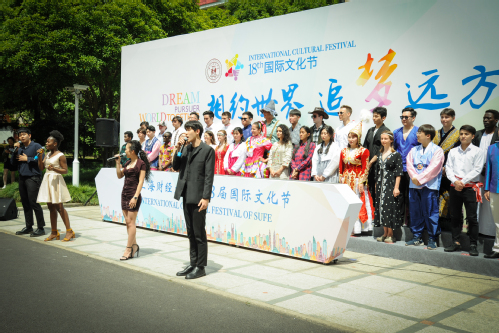 The International Students' Union President Myung Joong Yoon (Korean) and Students' Union President, Li Tianhang (China), addressed the students, and welcomed and all the guests and gave an overall introduction of the Cultural Festival.
Accompanied by the song presented by four foreign students, international students dressed in their own traditional costumes came to the stage. SUFE Vice President Yao Lingzhen delivered the welcome speech. She introduced the events of the International Cultural Festival, and encouraged Chinese and foreign students to be brave in pursuing their dreams.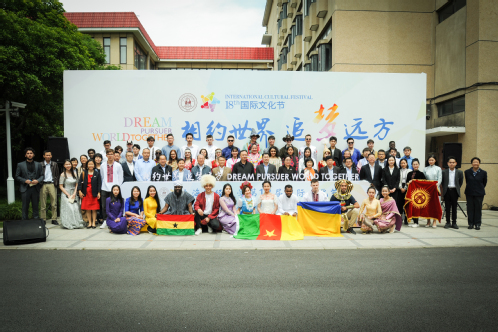 With the rise of the theme of this International Cultural Festival, the 18th International Cultural Festival of Shanghai University of Finance and Economics opened.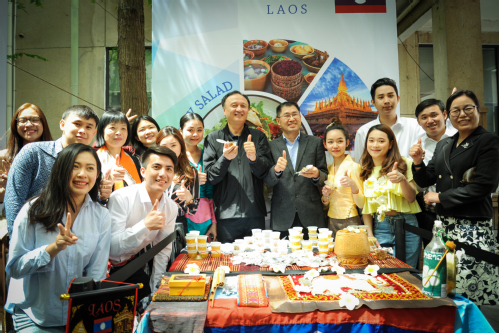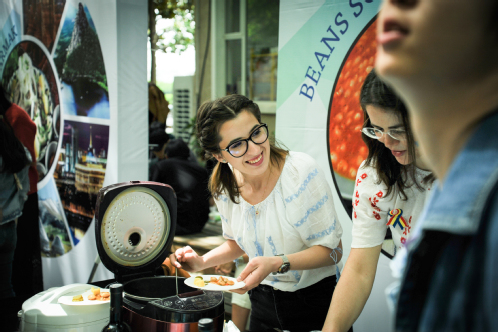 At the food carnival, exquisite food from 33 booths formed the "A Taste of the World" on the campus at this special moment when spring ended and early summer came. Salad from Russia, traditional bread from Kazakhstan, American pumpkin pie, Ukrainian potato pancakes, and Italian tiramisu. All the teachers and students were impressed. In this food fiesta, the booths also prepared traditional games to interact with all the visitors on the spot.
Meanwhile, the 3rd Tallinn Day was held. The Tallinn booth strived to present an Eastern European-style Estonia in terms of ecology, tourism and humanities, hoping more teachers and students would join to promote the China-Ethionia exchanges.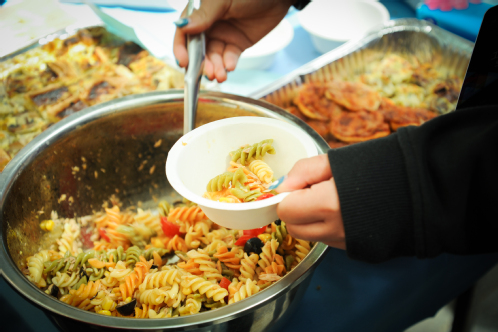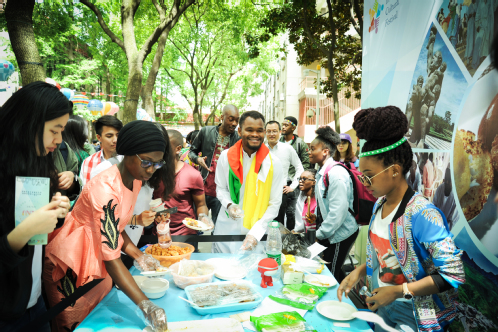 As a window to demonstrate a harmonious international campus, the International Cultural Festival has been dedicated to showcasing outstanding cultures around the world. "It's exciting to participate in the food carnival every year," said Kotliar Illia from Ukraine. "We've prepared red borscht soup and roasted potatoes for our schoolmates, which are typical Ukrainian food. My friend also brought some traditional costumes and artworks from the consulate in Shanghai. We hope we can present both Ukrainian food and traditional Ukrainian culture to others."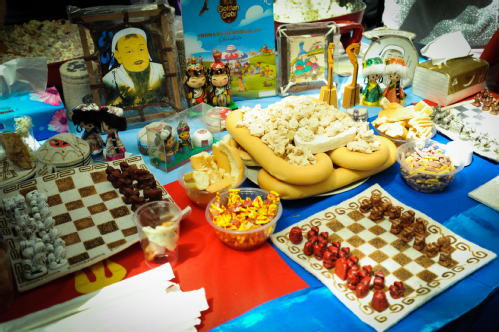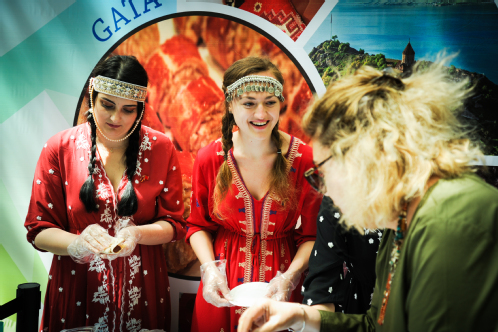 More and more international students are from countries participating in the Belt and Road Initiative since it was brought forward by Chinese President Xi Jinping in 2013. At this year's food carnival, 26 of the 32 booths were set up by students from Belt and Road countries. "Olive salad is very traditional in Russia, every family makes it during the New Year celebration," said Russian student Boris Neshcheret. "Pancake symbolizes the sun in Russia, so it is one of the favorite pastries for Russians."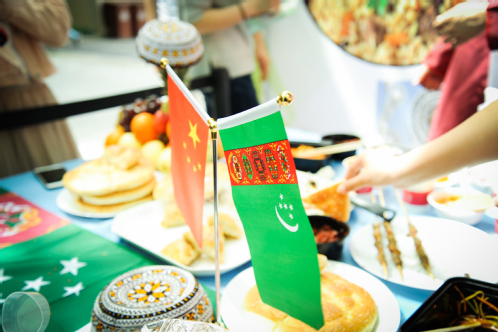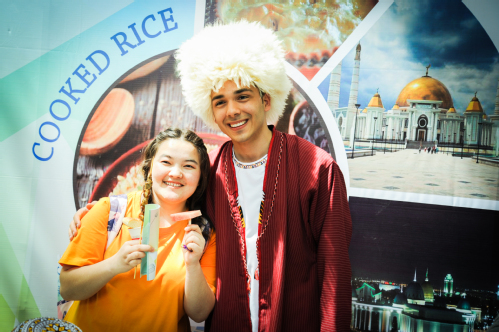 Malaysone Phengphet from Laos said the event was a good opportunity for her and her compatriots to introduce Lao culture to Chinese students. "We have more than 20 students to prepare Lao-style chicken salad, which is a must during traditional festivals in our country," she said.
Besides food from foreign countries, there are also snacks from various parts of China, such as shaqima, or caramel treats from Beijing, qingtuan, sweet green glutinous rice balls popular in regions south of the Yangtze River, and mahua, fried dough twists from Tianjin. "I've been in China for almost one year, and it's my first time to take part in the food carnival," said Claudia Stoiberer from Austria."I'm glad to see many Chinese foods that I have never had the chance to eat."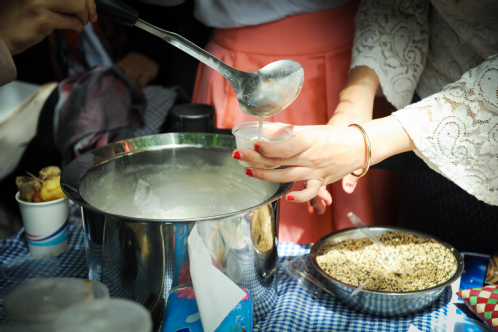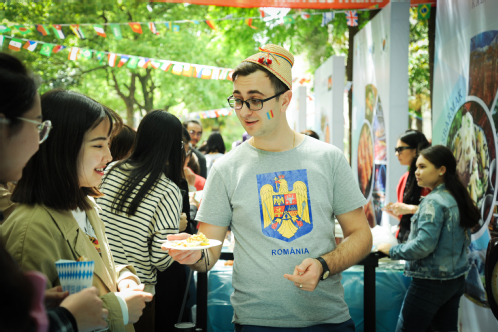 The construction of a harmonious international campus is inseparable from collaboration of Chinese and foreign students. At the Food Festival, a group of special purple figures are busy –they were Chinese student volunteers. Xing Wei, China, an undergraduate of the School of Public Economics and Management, is one of them. Her work is to help Peruvian students prepare food for the booth." This is my first voluntee work at the Food Carnival. I think this is a good learning opportunity to improve your English and hands-on skills. The experience of cooking with international friends is very special, and you can get a deeper understanding of Peruvian food culture and other customs."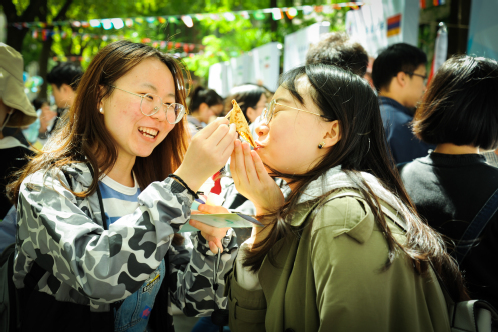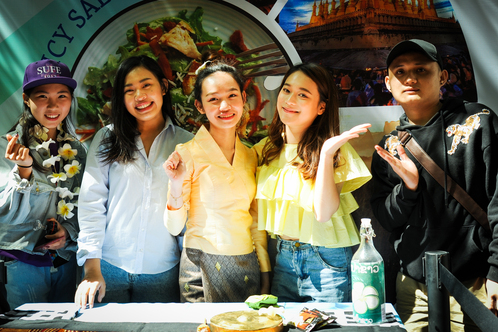 This year's International Culture Festival is jointly held by the International Cultural Exchange School and the SUFE Youth League Committee,organized by the International Students' Union. In the coming week, the activities of the International Culture Festival will continue. Korean cultural experience activities,a SUFE Youth Talk, RUNNING SUFE,and Wonderful Reading Volunteer Club, are some of the series of events which will be staged at the university for students to enjoy the cultures of different countries.