On Monday afternoon, Vice President Ding Keyi met with Dr. Knuts Scherhag, a deputy head of Fachhochschule Worms, in the 307 meeting room of the administrative building on Wuhou campus. Also present were personnel responsible for the meeting of Officer of International Cooperation and Exchange including its Director Li Gengnian.
On behalf of the students and faculty of 56 ethnic groups, Vice President Ding expressed thanks to guests from Fachhochschule Worms for their visit to SMU and gave them a brief introduction to our university. At the same time, Dr. Knuts Scherhag also introduced Fachhochschule Worms. Both sides made further communication and discussion on the joint cultivation of students as well as the mutual exchange of teachers.
News Link: Fachhochschule Worms, founded in 1978, is a public university of applied sciences with more than 3000 students, located in Rhineland-Palatinate, Germany. The University of Applied Sciences Worms comprises such hot majors as international enterprise management/ international economics, tourism, international management international business management. Its all majors combine their teaching and practice with German industries on the premise of business demands. Students learn basic theories in the university while they put what they learned into practice, thus acquiring a better understanding of their professionals. Fachhochschule Worms has developed relations of cooperation and exchange with over 100 universities and colleges worldwide, the EU in particular. The proportion of its foreign students reaches 20 percent, far higher than other German universities.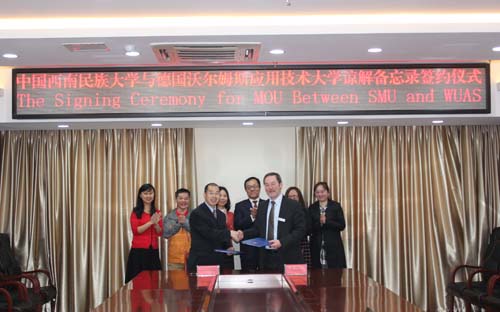 Original Article From: http://english.swun.edu.cn/News.htm
Learn More and Apply: Southwest University for Nationalities