On April 11th, the third Council meeting of Confucius Institute Queen Mary University of London (CI QMUL) was held at Queen Mary University of London. A total of 10 members of Council including Colin Bailey, President and Principal of Queen Mary University of London and Jiang Chuanhai, President of SUFE attended the meeting.
At the meeting, the Council reviewed and passed Confucius's 2017 work report, 2018-2020 work plan and so on. President Jiang Chuanhai hoped that the Confucius institute should work according to the plan and both universities should further think about the position of the Confucius Institute in the development strategies and solve the further development problems of CI QMUL in the overall strategic development. At the same time, as a bridge, CI QMUL should help deepen the internationalization of the two sides in scientific research, talent training and other aspects.
Confucius Institute Queen Mary University of London was founded in October 2015. In the last three years, the Chinese teaching and cultural promotion of CI QMUL have achieved good results. After internal and expert evaluations of Queen Mary University of London, the Chinese teaching is formally included in the credit course system of its language strategic project, and the demand of business Chinese training in the London business organization also increased. Since 2016, CI QMUL has been approved as HKS test center and has successfully organized 3 HKS exams. CI QMUL has also effectively promoted exchanges and cooperation between the two universities. A total of 72 British students went to SUFE to study or participate in summer camps, more than 30 SUFE students including students from the master of international organization class studied and practiced in London.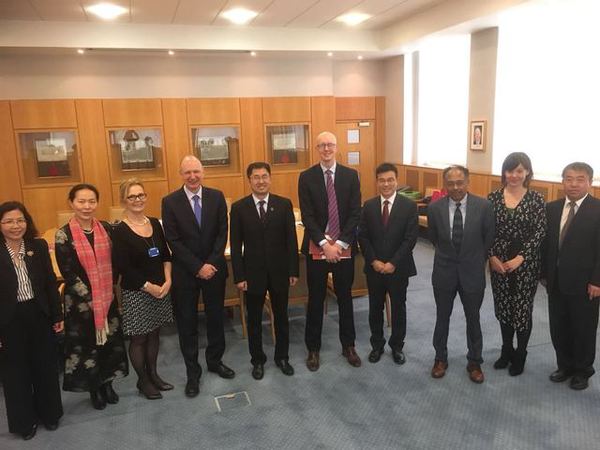 President Jiang Chuanhai also visited the Dean of CI QMUL Lou Zun and teachers and students who served in CI QMUL, and thanked them for their efforts and dedication to the construction of Confucius institute. After the meeting, two universities also carry out discussions on research cooperation and teachers and students exchange programs. During his stay in London, President Jiang Chuanhai visited alumni in England and send greetings to them from SUFE.