On September 20th, Vice President Yao Lingzhen led a delegation to visit Philipps-Universität Marburg (UMR)and both sides signed a cooperation agreement.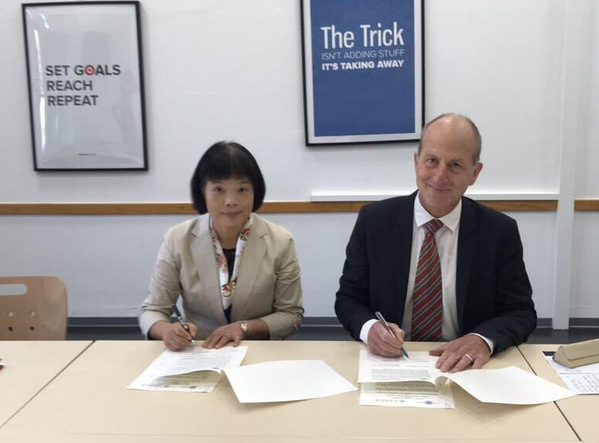 Professor Michael Bölker, Vice President of UMR, Professor Petra Kienle, Director of Department of Internationalization and Academic Collaborations, Professor Elisabeth Schulte of Institutional Economics , Professor Marc Steffen Rapp, Professor Mohammad Reza Farzanegan, Professor Bernd Hayo from the UMR and Lawrence Brown, Dean's Office Coordinator for International Affairs from School of Business and Economics welcomed the delegation .Both parties gave detailed introductions to the history, talent training, teaching, scientific research and international development of the respective universities. They discussed the opportunities and methods of cooperation between the two universities and reached consensus on issues such as student exchange, teacher exchange and cooperative research.
Subsequently, Vice President Yao Lingzhen and Vice President Michael Bölker jointly signed the memorandum on cooperation and a student exchange agreement, which opened the partnership between the two universities and added a new member to SUFE partner network of first-class German universities.
Li Hong, Director of International Exchange and Cooperation Office, Sun Yan, Vice Dean of the School of Economics and Zhang Jinhua, Deputy Director of the President's office also attended the meeting.
Philipps-Universität Marburg (UMR), located in Marburg, Hesse, Germany, founded in 1527, and is one of Germany's long-standing famous first-class universities. The university now has more than 100 degree courses, offering undergraduate, masters and doctoral degrees, 9 research centers and 16 departments, including law, business and economics, social sciences and philosophy. In the past 500 years, the university has trained a large number of outstanding talents, famous alumni include the Green Brothers, a number of Nobel Prize winners and a former President of the Federal Republic of Germany and a former Prime Minister of Greece.