SMU News, October 8th On September 27th, Professor Liu Xinzhi, from the Department of Applied Mathematics, University of Waterloo(UOW), Canada, was invited to our school for academic exchanges and held an academic lecture entitled "Modeling and Congestion Control of the Internet" at Wuhou Campus. Teachers and graduate students from the School of Computer Science and Technology and the School of Electronics and Information Engineering from SMU, as well as teachers from Chengdu University of Information Technology and Chengdu University, attended the lecture.
During the lecture, Professor Liu Xinzhi gave an in-depth and meticulous explanation to the teachers and students present about widespread internet issues by using an easy-to-understand language and specific charts. Then, Prof. Liu analyzed in detail how to use the Lyapunov Stability Theory to solve the problems of fairness and stability in the network in terms of the problems of packet loss, delay, and congestion in data transmission. Eventually, he also introduced the study, employment, and work of the students majoring in applied mathematics and mathematics at the University of Waterloo.
During the interactive session, Professor Liu Xinzhi conducted extensive exchanges and discussions with the teachers and students present. His profound knowledge and excellent speech won the applause of the teachers and students who benefited a lot from the lecture.
News link:
Liu Xinzhi is the Chairman of the Chinese Professors Association of the University of Waterloo. He got his doctoral degree from the University of Texas at Arlington in 1988. He was employed by the University of Waterloo in Canada in 1990 and was appointed as a tenured professor in 1994. His research interests include hybrid systems, nonlinear system control and stability, complex network synchronization, economic complex systems, and confidential communications and etc. He has published more than 300 academic papers, 5 academic monographs, and edited more than 20 academic books. Besides, he has completed a number of major research projects funded by the Canadian Natural Science and Engineering Foundation, and served as editor-in-chief of the international academic journals "DCDIS Series A, Mathematical Analysis", "DCDIS Series B, Applications and Algorithms", and "Journal of Nonlinear Systems and Applications". He is also the deputy editor of five international magazines.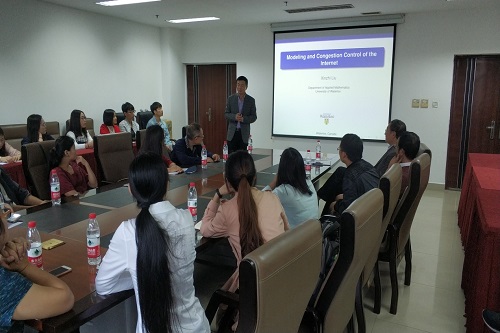 Original Article From: http://english.swun.edu.cn/News.htm
Learn More and Apply: Southwest University for Nationalities