SMU News, June 1st Teachers and students from University of Saint Joseph (USJ), led by their vice-president Vincent Cheng Yang, paid a visit to SMU on May 31st. SMU vice-president Ding Keyi met with these guests on Hangkonggang campus. Also present at the meeting were relevant leaders and staff members from Office of Hong Kong, Macao, Taiwan Affairs, Student Affairs Office, Library, School of Chemistry and Environment Protection Engineering, and School of Literature and Journalism.
At the meeting, Vice-president Ding offered SMU's basic information and its communication and cooperation with Macao universities. USJ Vice-president Vincent also introduced the university's characteristics, preponderant disciplines and curriculum in return. Both sides had further intent for cooperation through discussion on student exchange, teachers' mutual visit and academic exchange, thus laying a sound foundation for future pragmatic cooperation.
USJ delegation expressed their sincere congratulation for SMU celebrating its 67th anniversary on June 1st and holding a series of activities like Alumni Week.
News Link:
The University of Saint Joseph is a private university founded in 1996, which was jointly organized by the Catholic University of Portugal and the Diocese of Macau and whose graduates' diploma were granted by Catholic University of Portugal and University of Saint Joseph in common. USJ is one of the universities in Macao approved by European educational institutions. It stared courses at Our Lady of Penha Church of the Penha Hill since 1997 April. In 1998 April, the university moved its campus building to NAPE. The Chief Executive of Macau officially approved that Macau Inter-University Institute changed its name to University of Saint Joseph on Nov. 19, 2009.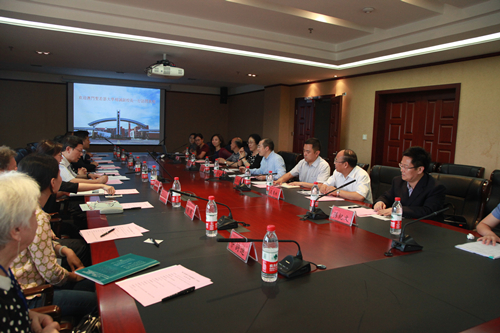 Original Article From: http://english.swun.edu.cn/News.htm
Learn More and Apply: Southwest University for Nationalities