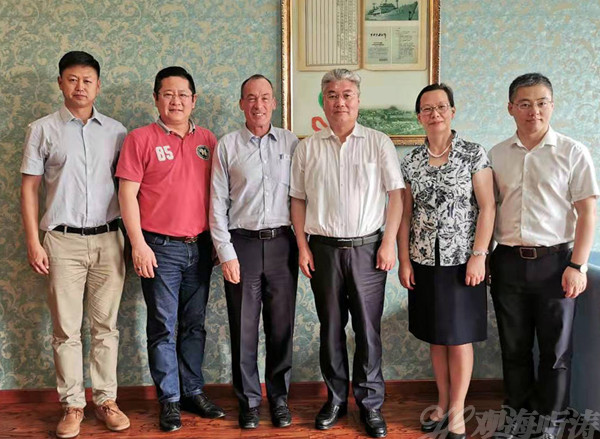 On June 29, 2019, Deputy Vice-Chancellor Iain Watt of the University of Technology Sydney (UTS) led a delegation to Ocean University of China (OUC) for a second time this year following his previous visit in May. OUC's President Yu Zhigang received the guests on Laoshan Campus, and the two sides engaged in discussions about joint doctoral education and the establishment of a joint research center.
After extending his warm welcome to the delegation, President Yu gave an overview of OUC's progress in becoming a world-class university and in the joint research and education with Australian universities including the University of New South Wales and the University of Tasmania. He spoke highly of UTS's achievements in AI-related fields such as robotics and big data, and expressed the hope that the two institutions could increase cooperation of various forms in computer science and AI for common development.
Deputy Vice-Chancellor Iain Watt expressed his thanks for the warm reception. He said that he had visited OUC many times and the university had left a great impression on him. He hoped that the two institutions could engage in in-depth communication after signing the cooperation agreement and conduct research cooperation and joint education programs.
Prof. Dong Junyu, Vice Dean of the College of Information Science and Engineering gave an introduction to the progress in cooperation between OUC and UTS, and provided his suggestions on future collaboration. President Li Xinqing of Australian Education Management Group attended the meeting and shared his opinion on innovative cooperation in marine science between China and Australia. Prof. Song Wenhong, Director of the International Office, also attended the meeting.
Original Article From: http://eweb.ouc.edu.cn/news/list.htm
Learn More and Apply: Ocean University of China