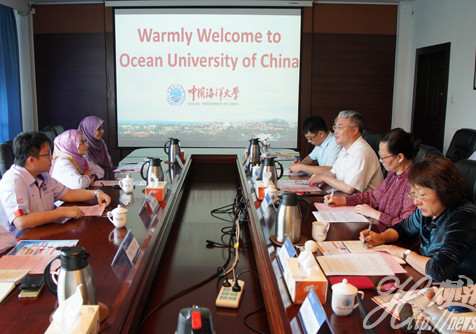 On August 4, 2019, a delegation from Universiti Malaysia Terengganu (UMT) led by Vice Chancellor Noraieni and Professor Yeong Yik Sung of the Institute of Marine Biotechnology visited Ocean University of China (OUC). OUC's president Yu Zhigang received the guests, and the two sides engaged in discussions about the establishment of a joint research center and reached further consensus.
President Yu extended a warm welcome to the UMT delegation and commended Vice Chancellor Noraieni on the efforts she made to promote the cooperation between the two universities. President Yu reviewed the cooperation progress between the two sides since the signing of the Memorandum of Understanding (MOU) in 2016, and OUC's cooperation with marine-related institutions in ASEAN countries. He also gave an overview of OUC's achievements in recent years, especially its progress in becoming a world-class university, the trial trip of Dong Fang Hong 3 research vessel, the building of the Sanya Institute and the development of new marine drugs. President Yu pointed out that both universities have successful experience in building joint research centers and enjoy a good foundation of cooperation. The two universities could strengthen cooperation in such fields as life sciences, fisheries, food and medicine, ocean engineering based on the founding of the joint research center and produce fruitful high-quality outcomes.
Vice Chancellor Noraieni expressed her thanks for the warm welcome. She introduced the recent development of UMT, a key university in the field of marine research in Malaysia, especially in key areas such as ocean and atmosphere, fisheries, food science and biotechnology. She pointed out that UMT has unique geographical advantages in many fields such as maritime observatory construction, marine data collection and biodiversity research, and enjoys a good foundation of cooperation with OUC in marine research. With the joint research center as the platform, the two universities could steadily promote multidisciplinary cooperation and continuously achieve new progress.
Prof. Yeong of the Institute of Marine Biotechnology, UMT, and Prof. Wang Min, Deputy Dean of the College of Marine Life Sciences, OUC, respectively introduced the preliminary preparations for the joint research center, and the prospects and plans for future cooperation.
Prof. Song Wenhong, Director of the International Office, moderated the meeting. Prof. Li Qi, Dean of the College of Fisheries, Prof. Zhang Quanqi from the College of Marine Life Sciences, and Prof. Wang Yonghong from the College of Marine Geosciences exchanged their views on cooperation in the relevant research fields. Mr. Li Yan, Director of the Division of Science and Technology, also attended the meeting.
After the meeting, Vice Chancellor Noraieni gave an academic report entitled Integrated Management of Coastal Zone and Sustainable Development of Marine Resources to the teachers and students on Yushan Campus.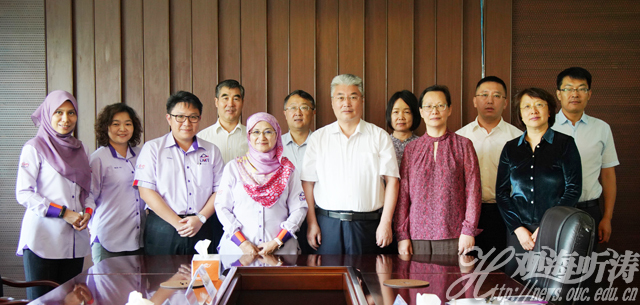 Original Article From: http://eweb.ouc.edu.cn/news/list.htm
Learn More and Apply: Ocean University of China